Hello, Ravenna, your new novel, Spanked into Submission, sounds hot! It creates all kinds of questions!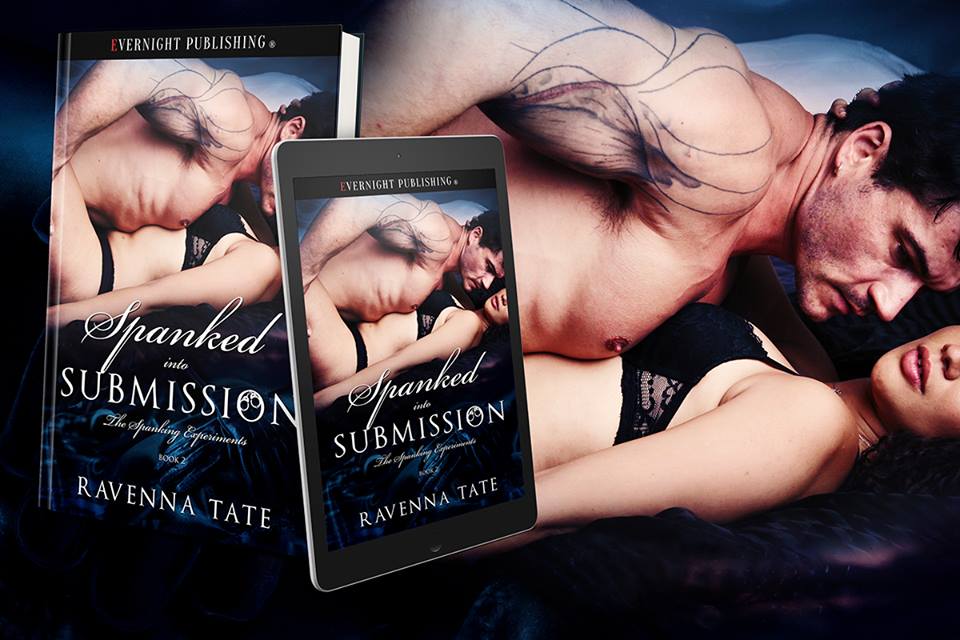 What would you like readers to know about your book?
This is the second book in The Spanking Experiments series, and it introduces the second of three Doms who own the BDSM club Sensations. Each of these books are erotic, contemporary, BDSM, May-December, and Rubenesque.
What was it like to write the story? Did you face any difficulties/challenges?
The hero and heroine in this book are both biracial, and the decision to make them so stemmed from a presentation the mega-talented Shyla Colt gave to our Indiana RWA chapter on diversity in erotic romance. I wanted to honor her challenge to each of us to become more aware of the need for diversity in the genre.
What do you love about your story, and why?
I love the uncomplicated plots of each of the books in this series. They're a nice change from my usual twists and turns.
What have you learned from the main characters in your story?
That falling in love has no time limits.
Do you write in other genres and if so, what are they? What genres would you like to try that you haven't already?
I've written just about everything except MC romance, and I'm trying that next. ☺
What or who influences your writing?
Too many to name.
Where do you find your inspiration?
From just about anywhere, really.
Who are your author idols and if you met them what would you say to them?
I'd fall down at Stephen King's feet and say, "I'm not worthy! I'm not worthy!" I'd also love to sit and have a cuppa with J.K. Rowling. ☺
If you had to choose your three favorite books by other authors, what would they be and why?
A Rose in Winter by Kathleen Woodiwiss, Sweet, Savage Love by Rosemary Rogers, The Other Side of Midnight by Sidney Sheldon
Why? Because after all these years (decades), those stories still stand out in my mind.
Do you have any interests outside of writing, and if so, what are they?
Sleeping ☺
What is your next literary project?
The Spanking Experiments will have ten books in all. I'm also working on two MC romance series that will share story threads.
Blurb for Spanked into Submission:
Macie Brooks has entertained fantasies of being spanked all her adult life. But until she decided to answer an ad on a BDSM site, seeking participants for a survey on impact play, she had given up hope of fulfilling those fantasies in real life. Intimate relationships haven't worked out for Macie. She's been told she's a freak because of her secret needs. And, because of her poor body image, she doesn't believe herself desirable.
Dakar Garcia, the Dom at Sensations who introduces her to impact play during one erotic night at the club, is everything she's ever dreamed of. Handsome, charming, and in control. Dakar has been searching for the woman of his dreams, but without much luck. Is it possible he's found the perfect submissive, and the perfect lover, in Macie?
Excerpt from Spanked into Submission:
"Do you know what this is?"
"A spanking glove, Sir?"
"Yes. It'll protect my hand from getting sore, but will still give your luscious round ass a nice burn." After he moves the toys on his left to his right, he spreads his legs apart slightly and pats his left thigh. "Drape your lower torso over my thigh, facing me at an angle."
I don't quite picture what he means until I lie over his thigh and he moves me further to the left a bit, so that I'm almost lying next to him. His right leg pins both of mine across the backs, and he drapes his left forearm across my middle back. I'm trapped against his hard, muscled body. My pussy is soaked now, and tiny contractions flutter the walls once again. Underneath my lower abdomen, his muscled thigh presses against me.
"Are you comfortable?" That voice! It washes over me, deep and sexy, until I would do anything to hear it.
"Very, Sir." Speaking is difficult.
"This will hurt, Macie."
The first swats are delivered on one side, then the other, in rapid-fire succession. I yell and try to get away, but he has me held too tightly. Now I understand why he put on the glove. By the third swat on each cheek, tears stream down my face and I expect to smell the smoke from the fire on my ass.
At the same time, it's so damn arousing that I'm having a tiny orgasm. I never would have believed such a thing was possible, except that each swat pushes my clit into his thigh. When he reaches six on each side, my yells have turned to moans, and the contractions inside my pussy are still going.
The combination of pain and pleasure is like a drug. I want more. If this happens from a simple spanking, what will those floggers and paddles do to me? My mind fills with erotic images as he delivers the last three smacks on each side. I picture him fucking me, his cock in every hole, and my ass raw from those toys he chose.
When it's over, I simply lie there, letting my imagination run wild. Maybe if I don't move, he'll keep going?
"What have we here?" His voice breaks through my fog, and I gasp as fingertips brush my labia. "You are soaking wet, Macie." He says it like he's surprised. Good lord. Has the man ever looked into a mirror?
"Yes, Sir, I sure am."
A soft chuckle accompanies him slipping a finger into my wetness. I moan loudly as he massages that perfect spot inside. "Very nice." He removes his finger and slides two inside. While he moves them in and out, he rubs my clit with his thumb, and I turn to jelly.
Now I'm moaning and writhing against his touch as an intense orgasm begins to build. Not shy any longer about the silly skirt, I'm glad it's open in the back. If this is the reward for letting him spank me until I cry, bring on that chainmail flogger and leather paddle!
Ravenna Tate's biographical note:
Ravenna Tate lives in the Midwest where it's cold six months out of the year, but inside her stories you'll find plenty of heat. The sex is hot, the men are alpha, and the women give them a run for their money.
Buy links:
Website: http://ravennatate.blogspot.com/
Evernight Author Page: http://www.evernightpublishing.com/ravenna-tate/
Facebook: https://www.facebook.com/RavennaTate
Facebook Author Page: https://www.facebook.com/RavennaTateAuthor
Google+: https://plus.google.com/+RavennaTate/
Social Media Links:
Goodreads: https://www.goodreads.com/author/show/11283785.Ravenna_Tate
Manic Readers: http://www.manicreaders.com/RavennaTate/
Pinterest: https://www.pinterest.com/ravennatate/
The Romance Reviews: http://www.theromancereviews.com/RavennaTate
Amazon: http://www.amazon.com/-/e/B00RPMN0BM
Authorgraph: http://www.authorgraph.com/authors/RavennaTate
Barnes & Noble: http://www.barnesandnoble.com/s/ravenna+tate?fs=0&_requestid=93611
BookStrand: http://www.bookstrand.com/ravenna-tate
iTunes: https://itunes.apple.com/us/artist/ravenna-tate/id957971043?mt=11
Smashwords: https://www.smashwords.com/profile/view/ravennatate1
KOBO: https://www.kobo.com/us/en/ebook/spanked-into-submission-4