Welcome, Annie! Your new romance novel includes Vampires and Witches, and a detective wannabe under the cloak of an art class. The title, The Art of Seduction, and the excerpt that follows are smoldering!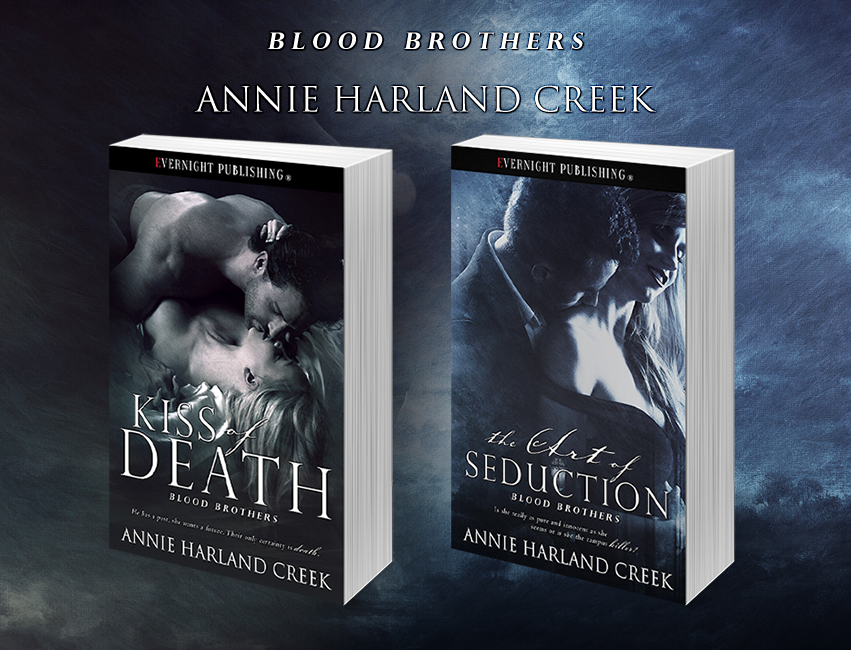 What would you like readers to know about your book?
The art of seduction is David's story, for those who read Kiss of death.
What was it like to write the story? Did you face any difficulties/challenges?
This story practically wrote itself. The protagonist, David, is the older brother of the main character in Kiss of death. While writing Derrick's story, David insisted on pushing his way into the story with his cheeky smile and naughty innuendos. I had The art of seduction almost finished by the time Kiss of death was published.
What do you love about your story, and why?
Interesting question Kory. I guess I love the supernatural elements to the story but I also hope that the readers see a softer, sweeter side to cheeky David.
What have you learned from the main characters in your story?
Trust your instincts.
Do you write in other genres and if so, what are they? What genres would you like to try that you haven't already?
I have written a couple of Intrigue novels, a YA and, I am working on two fantasies and one that may come under the genre of horror. None of these are published but I may self-publish later.
What or who influences your writing?
My mother read anything and everything and encouraged me to write at a very early age, around four. I have always loved the supernatural and had a few family members who were water diviners, tea leaf readers or were clairvoyant in one way or another. My daughters, grand daughters and I love ghost stories and have had a few interesting experiences with the supernatural.
Where do you find your inspiration?
Oddly enough, dreams. I have a note book beside my bed and often wake up in the middle of the night with an idea.
If you had to choose your three favorite books by other authors, what would they be and why?
Wow, that's a toughie. I love lots of books. Christine Feehan's book Dark Symphony got me interested in romance. There was a part in it where Byron stands the blind Antoinetta in front of a mirror and she is surprised (not only to see herself) but, her reflection appears younger and more beautiful than she believes she is. He explains that it is how he sees her. I thought that was so beautiful.
I love Kresley Cole and her supernatural take on Survivor. Mary Shelley's Frankenstein introduced me to a world of 'what ifs' and posed the question 'who was the real monster in this story?'
What is your next literary project?
If book four will stop interrupting me, I'm hoping to finish book three of my Blood brothers' series in the next couple of months. Fingers crossed, Evernight will like and publish it.
Blurb:
Meaghan Lamb has a mission. She plans to use her undercover assignment in the local University to prove, once and for all, that she has what it takes to make a great detective. But when her class is assigned a very hot nude model/artist, her plans turn pear-shaped. As her suspicions about him grow, so does her attraction but how can she allow herself to fall for a man who could be a cold-blooded killer?
David Corel has seen his paintings come to life in the form of a beautiful, blonde art student who seems unable to look at him without blushing. But, is she really as pure and innocent as she seems? Or could she be the campus killer?
Excerpt:
"No, no, no." David protested as he came up behind her and took the brush from her hand. "For a start, this is the wrong brush." He exchanged the bristle for a sable brush and delicately dabbed it onto the palette. "Think of your brush as a tool." He said as he put the brush in her hand and held her hand to the canvas. She could feel the hard muscles of his chest on her shoulders as he leaned over her, moving her hand like a marionette. Together they stroked the canvas.
"When you hold the tool, I want you to make slow, seductive movements like this…" he demonstrated downward movements, "the oil makes the paint slide easily, making your brush strokes more fluid."
It took Meaghan only a few seconds to realize his double entendre. "Control the tool. Move your hand slowly up and down, adding linseed oil when your movements begin to catch. Ah, that's good." He pressed against her, his erection rubbing against the small of her back as he continued his play on words. "The tip is very sensitive. Use a featherlike touch for optimum effect. Pay careful attention to the reactions of the canvas. You will sense when to add oil and when you should apply more pressure. That's very nice. You're doing well … keep up the pressure … yes, yes … that's it." She heard his low, quiet groan and she gasped in response. "As the pressure builds, move faster, faster Meaghan … oh, that feels good doesn't it." His voice breathless, ragged as he moved her hand furiously over the canvas.
"Faster … until you can sense that the canvas is at the point where it can take no more, then … add a bit more for good measure." David stopped abruptly. The painting finished. Meaghan could hardly believe what they had created in such a short amount of time. She stood admiring the work. Her body exhausted as though she had been put through a wringer. Damp heat soaked her dress. She shuddered when David asked her.
"Was that as good for you as it was for me?"
Buy Links:
Evernight Publishing: http://www.evernightpublishing.com/the-art-of-seduction-by-annie-harland-creek/
Amazon: https://www.amazon.com/dp/B0741CTQ43/ref=cm_sw_r_cp_ep_dp_3fOBzbE0GRE4D
Social Media Links:
http://www.annieharlandcreek.com/
www.facebook.com/AnnieHarlandCreek