Welcome, Ravenna! Your new novel, Tannin's Thunderbolt, about a member of the Demons on Wheels Motorcycle Club sounds exciting! I love the creative way you described his reaction to first seeing the beauty, Raiyana, as being hit by a thunderbolt!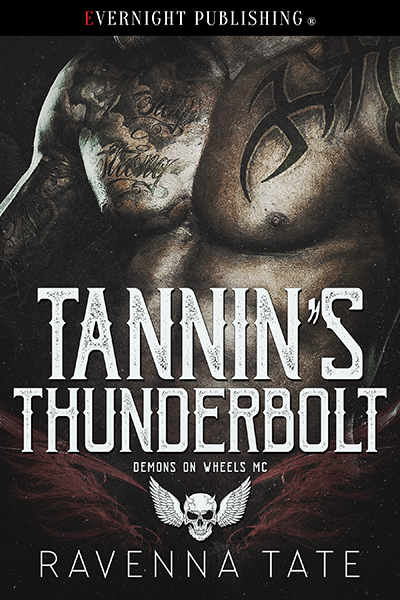 All authors have their own reasons for writing a book. What are yours?
My publisher suggested I try writing MC romance, so I read a bunch of them to get the vernacular right, and to get a feel for what readers want in them. Once I began, I was inspired to write one of my own.
What would you like readers to take away from your story? Does it contain a message? 
That love conquers all, of course. The hero and heroine are from the same world, but the hero was born into it and gave it all up to be part of the MC.  The heroine clawed her way to the top, only to lose it all, and realize she found what she was looking for all along in the hero.
Did you face any obstacles or challenges while writing the story and if so, what were they?
Writing an alpha male in an MC is different than writing one in other genres. I had to work hard to get him just right.
What have you learned from the main characters in your story?
That real life can be just as sexy as fantasies.
How much emphasis do you put on supporting characters to move the plot of your stories along? Have any of your supporting characters ever gotten their own story?
Each of the officers in this MC will get their own story in the Demons on Wheels MC series, and a few of the women we meet in this book will be the heroines in future books.
Do you write in other genres and if so, what are they? What genres would you like to try that you haven't already?
I've written sci-fi, contemporary, fantasy, MC, dark romance, and paranormal. I'd love to try a true historical one day.
Do you have any author idols and if so, how would you like to meet them?
Stephen King!!! I'd love to just sit and chat with him about everything. Life, writing, food, anything.
What do you do in your down time to feed your soul?
I read, watch TV, and spend time with my family and cat.
What's next on your literary horizon?
The rest of the Demons on Wheels MC, a spin-off MC series, and another dark romance series.
Blurb:
When Raiyana Parente learns a Mob boss wants her dead for refusing to become his business partner, she runs. No clear plan in sight, she ends up in the parking lot of Scotty's Place, a posh strip club in Creek Ridge, Ohio, believing the tall, muscled biker in jeans and dirty boots is the man sent to kill her. She couldn't be more wrong.
Sterling Tanner, known to his Demons on Wheels MC Brothers as Tannin, is hit by the thunderbolt the moment he looks into Rai's dark eyes. But the trouble she brings with her isn't something the MC needs. Still, what's a man to do when the woman he has to have, no matter what, shows up?
As their rough and dirty sexual relationship burns up the sheets, Tannin must find a way to keep Rai safe. But can he win her heart as well?
Excerpt:
"Oh fuck me sideways. I love big tits."
A loud of cry pleasure accompanied him fastening his mouth first on one nipple, then the other. He squeezed them together and tortured her with his teeth and tongue, passing both across her nipples. "You taste so fucking good."
No one had ever played with her breasts this way, so rough yet tender at the same time. He squeezed the mounds in strong hands, and each time he licked or gently bit her nipples, her clit throbbed. Rai grasped his hair, pushing his face closer to them.
"I want to fuck these. I want to come on them."
"Yes. Yes, fuck my tits." Fuck all of me!
He pushed her backward until her knees touched the edge of the bed. With a wicked grin that sent more shivers down her spine, Tannin shoved her once more and she fell onto the bed. No one had ever done that, either, and it was more arousing than she'd have believed possible.
"Stay like that with your feet on the floor." He unzipped his jeans and pulled them down, revealing a thick, red cock that forced a loud moan from her. Her pussy was soaked now.
Tannin tore off his boots and socks, and in an effort to get his jeans off, he nearly fell over. Rai couldn't stop staring at his legs. Dusted with dark hair, they featured an impressive array of tats and muscles that held her spellbound. She'd never seen such a gorgeous man.
"Lady, you are fucking delicious. I love your curvy body. I'm going to fuck your tits. I'm going to fuck your mouth. I'm going to fuck your pussy, and I'm going to fuck your ass."
Yes! She wanted that. All of it. "Yes, Tannin. Yes! Fuck me. Fuck me everywhere."
He straddled her, shoving his cock between her breasts. "Push your titties together."
This was a first. She squeezed them against his cock as hard as she could. He grunted a few times as he thrust, before moving off her. "Spread your legs." Rai did as he commanded, mesmerized by this rough, powerful man. He dropped to his knees and grasped her breasts again, licking the nipples, the sides, and underneath until his saliva had coated them.
When he'd settled his dick between them a second time, and after she'd once more pushed them together, this time when he thrust, his cock slid easily against her naked flesh.
"Oh, yes. That's it. Oh fuck, that feels so damn good."
Rai was mesmerized by the sight of his big dick thrusting between her breasts. Each pass brought the tip closer to her chin. Veins stood out on his neck. When his thrusts grew quick and jerky, she tensed, unsure what to expect. This was so arousing. Quirky, but very sexy.
Seconds after he cried out, hot cum splashed her chin and neck. She lifted her head higher and caught some on her lips. When she licked them, enjoying the salty taste, he moaned loudly and began to thrust again.
"God! You are so fucking sexy. Open your mouth."
As soon as she did, Tannin lifted up, pulling his swollen cock from between her breasts to hold it, poised right at her lips. He milked the shaft with one hand, groaning loudly, while more tasty cum squirted into her mouth. With his other hand, he grasped her hair and forced her head closer to him.
The gesture was so dominant that Rai's pussy fluttered in tiny contractions, especially once he shoved his dick into her mouth and finished coming inside it. She swallowed his cum, moaning softly as goosebumps broke out over her entire body. She'd never been taken like this, and never would have imagined how much she'd love it. But she wanted more. So much more.
Buy Links:
Evernight
http://www.evernightpublishing.com/tannins-thunderbolt-by-ravenna-tate/
Amazon
https://www.amazon.com/dp/B074VB8PWP/
BookStrand
http://www.bookstrand.com/tannins-thunderbolt-mf
Smashwords
https://www.smashwords.com/books/view/742758
Kobo
https://www.kobo.com/us/en/ebook/tannin-s-thunderbolt
iTunes
https://itunes.apple.com/us/book/tannins-thunderbolt/id1272469476?mt=11
Barnes & Noble
https://www.barnesandnoble.com/w/tannins-thunderbolt-ravenna-tate/1126986522?ean=2940154509760
Social Media Links:
Ravenna Tate lives in the Midwest where it's cold six months out of the year, but inside her stories you'll find plenty of heat. The sex is hot, the men are alpha, and the women give them a run for their money.
Website: http://ravennatate.blogspot.com/
Evernight Author Page: http://www.evernightpublishing.com/ravenna-tate/
Facebook: https://www.facebook.com/RavennaTate
Facebook Author Page: https://www.facebook.com/RavennaTateAuthor
Google+: https://plus.google.com/+RavennaTate/
Goodreads: https://www.goodreads.com/author/show/11283785.Ravenna_Tate
Manic Readers: http://www.manicreaders.com/RavennaTate/
Pinterest: https://www.pinterest.com/ravennatate/
The Romance Reviews: http://www.theromancereviews.com/RavennaTate
Amazon: http://www.amazon.com/-/e/B00RPMN0BM
Authorgraph: http://www.authorgraph.com/authors/RavennaTate
Barnes & Noble: http://www.barnesandnoble.com/s/ravenna+tate?fs=0&_requestid=93611
BookStrand: http://www.bookstrand.com/ravenna-tate
iTunes: https://itunes.apple.com/us/artist/ravenna-tate/id957971043?mt=11
Smashwords: https://www.smashwords.com/profile/view/ravennatate1