Welcome, Katherine! I must tell you that I was captivated by the title of your new novel, Woman as a Foreign Language. Quite simply, it is brilliant! Before we proceed, please allow me to say how impressed I am by your personal courage and what you reveal in this interview.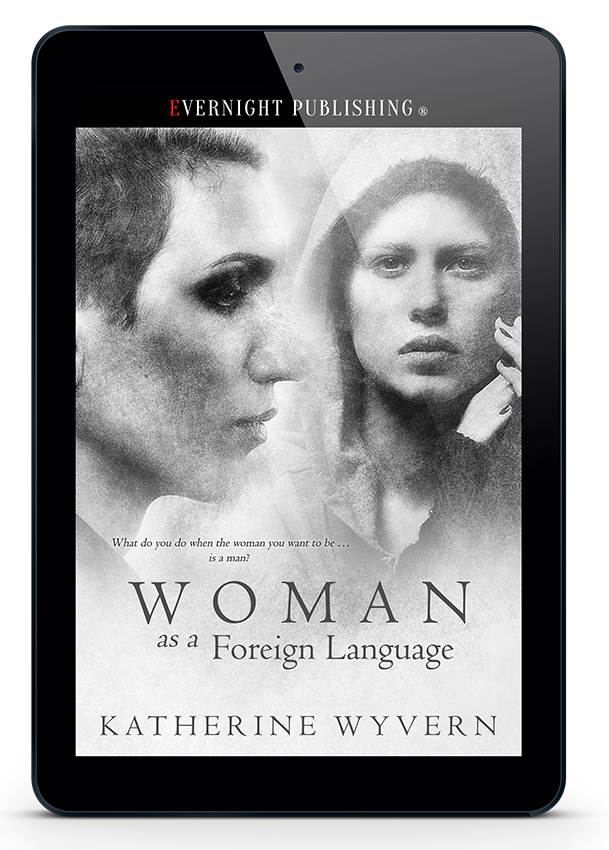 All authors have their own reasons for writing a book. What are yours?
Well, in part I always loved to read, so written storytelling is something I grew up with. It's really like a natural instinct. More specifically, years ago I was looking for Erotica I could read, and found little really to my taste, so I did what I usually do in such cases, which, is, I made my own. That's how I started writing erotic stories, and how I came to write Romance.
This last story though has a somewhat deeper, cathartic aspect to it, because much in it is autobiographic.
Does it contain a message? What would you like readers to take away from your story?
Yes! It is a story about transgender people, in the widest sense of the word, and the hard time they can have when surrounded by intolerance and the limited mindset of much of our society. I wanted to write a story about love, tolerance and acceptance. Also I wanted to write about the less extreme manifestations of gender queerness, which does not necessarily always extend to full scale sex reassignment procedures. There are many shades of in-between in the gender spectrum and each of them is legitimate and deserving of respect.
Where did you find your inspiration for the story? Was it a person, a current event, something you witnessed, or something else?
There are two main characters in the story, and the inspiration for them came from very different corners. Julia/n is a cross-dresser and he was "built" piecemeal from many different sources, both real and fictional. One ingredient in it was Eddie Redmayne's terrific performance as Lili Elbe in the Danish Girl. I really wanted to write a character with that grace and presence, but in a completely different social context, one where he could more comfortably inhabit both his identities. Another inspiration was the beautiful Russian model Daniel/Danila Kovalev and several other people! Nina, is a profoundly autobiographic character, and much of what she is, is, in fact, simply me.
Did you face any obstacles or challenges while writing the story and if so, what were they?
Two, mainly. One was researching Julia/n's character to make it believable. It is a Romance novel, and it does not need to be a documentary, but even so, I wanted it to be realistic. So I spent about three months reading tons of posts from cross-dressers and transwomen about their experiences, from tucking to dating. It was quite an eye-opener, I tell you! But I spoke and exchanged with some of the most incredible persons, and owe them a lot for their patience and generosity.
The other difficult thing was deciding how to treat Nina's abuse history in the story. It needed to be strong enough that a reader would perceive the crippling effects of it, but I didn't want to make this a horror story. It was a fine line, between the darkness, and keeping the general tone of the book upbeat and optimistic.
What have you learned from the main characters in your story?
Dare to be yourself. Don't let other people's perception of you shape your own identity!
How much emphasis do you put on supporting characters to move the plot of your stories along? Have any of your supporting characters ever gotten their own story?
It changes from story to story. Some of my books have large casts of characters, who often end up taking center stage. Black Carnival was like that. It has really, almost, six main characters, and all of them ended up gobbling up a lot of page space both in the book itself and its sequels! Woman as a Foreign Language is a much more intimate story. It is as much about loneliness and solitude as anything else, and the secondary characters definitely stay in the background.
Do you write in other genres and if so, what are they? What genres would you like to try that you haven't already?
I am very eclectic and I have written Fantasy, Contemporary, Sci-fi, MF, MM, FF, menage…
I am looking forward to really sink my teeth in two new stories I am working on now, which are both to the paranormal side. I have never tried that before, and I am looking forward to explore the magic and its possibilities, within a contemporary context … it won't be as good as Harry Potter, but I'd like to sprinkle some magic in our own world.
What or who influences your writing?
Much of my writing is rooted in my own life experiences and has at least a bit of an autobiographic element. From a literary point of view, my prose owes a lot to my favourite authors, Antonia Byatt, Patrick o'Brian, and J.R.R. Tolkien.
What is your writing process? Are you a patnser or a plotter, or a little of both?
A hopless pantser!! The only time I "plotted" a book it came out somewhat lukewarm. As far as I have a process, it is to write down the most emotional scenes of a story first. These are the scenes that really scream to be written, and I usually write them in no order whatsoever. WaaFL's ending was one of the first things I wrote for the book! After these bits are written I can start connecting them into a coherent narrative, and sometimes I can be tolerably systematic about it.
Do you have any author idols and if so, how would you like to meet them?
As I wrote before, Antonia Byatt (I'd be terrified to meet her. I fear that my claim that her prose influenced mine would seem terribly presumptuous!), Patrick O'Brian (I suppose the only proper meeting would be at sea), and J.R.R. Tolkien, whom would be welcome to visit my property and suggest improvements, since I am aiming to a very Shire-like ambiance!
What are your three favorite books by other authors and why? You don't have to limit this to three. (I know I can't.)
Possession (A.Byatt), for the ferociously versatile voice in it. It is a ventriloquist's book. She bends her style from contemporary intrigue and biography to feminist literary critique, to Victorian poetry and journal writing. It is amazing, dazzling. And the story has me on the edge of the seat from beginning to end. The whole Aubrey-Maturin series by Patrick O'Brian, part for the setting (much of it at sea, during the Napoleonic Wars) but part for the prose (which can be sublime or incredibly humorous) and for the fantastic characters in it. More than once I surprised myself thinking of Stephen Maturin as a real actual friend. That's how well written he is. And the Lord of the Rings, for the amazing scope of the world-building, the great beauty of it, and once again, for the pliant prose in which the story is narrated. There are many other books I love (Moby Dick, Harry Potter, Die Purpurlinie by Wolfram Fleishhauer, The Guernsey Literary and Potato Peel Pie Society, to name a few) , but these are really "the three".
What do you do in your down time to feed your soul?
I am obsessively creative. I love to make things from the strangest mediums and materials. Needlework, painting, woodwork, even cob building. As long as I am creative, I am good. When I really collapse, I have been known to sleep 36 hours in a row.
What's next on your literary horizon?
I have two stories started. One is a dark twist on the ubiquitous shifter theme, where the werewolf is reverted to his original sinister, evil nature. There's forests, and hunts and more than a little BDSM thrown in. The other is a much lighter tale of love and magic in contemporary London, which may end up being split in two short stories.
What is important in your life and why?
The time to be creative, without which I just would not be myself. My husband, who is my true soulmate and without whom it would make little sense to be on this planet. And my animals, who are an eternal source of fun (and occasionally heartbreak)
Blurb for your book:
What do you do when the woman you want to be … is a man?
Nina's abusive childhood left her feeling so vulnerable when wearing anything flimsier than combat boots that she has spent her whole adult life dressed like a gang boy. But when she meets the tall, glamourous, charismatic Julia (actually her cross-dressing neighbor, Julian, going out en femme), Nina is seized by an overwhelming and terrifying urge to finally express her own femininity.
Julia/n has not only a slightly split personality but also a thoroughly broken heart. What s/he wants most is a partner who will love both Julia and Julian. While Nina learns from Julia how to be a woman, Julian discovers that they might well be made for each other, but it will take a struggle against prejudice and a whole conservative mind-set before they can follow their hearts, and express their true, unique, and beautiful selves.
Excerpt from your book:
"Well, are we going out this evening or what?" asked Julia, seeing Nina sitting down still naked on the bed.
"Oh, it will take me two minutes to get ready," said Nina, smiling up at her. "I am not such a woman as you," she added, grinning impishly.
"Oh, indeed?" said Julia, and pinched her nose in passing, then went to the wardrobe to fish out some stockings, a pocket bra and breast forms. Boobs were invariably the first thing. She liked her body well enough, as a man or a woman, except for that flat chest. A girl should have tits, and a boy should have some muscle at least, but somehow, she had failed to achieve either. The sweet, soft, bouncy weight of the breast forms immediately made her feel better about herself. Stockings were always the next thing. Her legs were as smooth as silk in any case, but the sleek feel of stockings on them was almost an aphrodisiac. Time was, long ago, when she was much, much younger, when just wearing a pair of stockings would give her a hard-on. She was not such a green horn anymore, luckily, because the last thing she needed right now was an erection.
She stood in front of the floor-to-ceiling mirror, and pulled on her gaff half the way. She gently maneuvered her testicles back up to where they were before they dropped (if only they had stayed there, she thought despondently, and not for the first time), then gave her empty scrotum a slight twist and pushed it down and back towards her buttocks. She was on the point of tucking her penis down and under the same way (if she laid them side by side, they looked every bit like labia through her gaff … et voilà, instant pussy… more or less), when she caught sight of Nina's eyes. Nina was still sitting on the bed, still naked, and gazing at her with those gorgeous gipsy eyes, studying everything Julia did and every inch of her body. Julia threw a look at her own lean, white figure in the mirror. She was standing with a hand between her legs and her gaff askew, half way between her knees and her hips, which felt somewhat less than graceful and dignified, and she wondered what Nina was seeing that was so entrancing.
"What?" she asked, smiling.
"Nothing. I did wonder where they went, when … you know."
Julia grinned. "They don't go very far, worry not."
Nina stretched herself long, like a happy cat, still gazing hungrily at her, eating her with her eyes.
And suddenly Julia stiffened. "Oh dear," she said.
"What?" asked Nina, in a somewhat comical echo of what Julia had said less than a minute earlier.
"Er … ahem. Stop looking at me. Just don't. I can't tuck it with a hard-on!"
Nina covered her face with her hands, vainly trying to suppress a fit of laughter. "I didn't do anything. I didn't!"
Julia was laughing too by now. It was hopeless. She let the whole lot hang out again and took two short steps to the bed (the gaff half-way up made it impossible to step out properly). She kneeled on the bed and started tickling Nina's feet, the back of her knees and her sides.
"I didn't do anything, I didn't," Nina repeated, between peals of laughter.
"Ah, but you were thinking, don't deny that you were thinking."
"Ok, ok, maybe I was, a little bit, please stop, stop, please!" Nina turned on her side, and curled up in a tight ball, still shaking with laughter. Julia stopped tickling her and pushed her on her belly, wiggled out of the gaff, then straddled Nina's small buttocks and leaned down to nuzzle her neck and the back of her head.
"What were you thinking, you imp? Mh? What were you thinking?"
She bit gently into Nina's earlobe and kissed her cheek. Nina smiled beatifically.
"That you are an elf, an angel, a goddess."
"A female-female she-goddess? Really, with all this embarrassment hanging out all over the place like this?"
She let her cock and her smooth, smooth balls brush Nina's buttocks, smiled and kissed her again.
"Always. You will always be a goddess to me," murmured Nina, drinking in the kisses, her eyes closed. Her hand searched for Julia's hand, their fingers wove together of their own accord, and Nina drew the hand closer to kiss Julia's fingertips one by one, adoringly. Julia smiled and pressed her breasts down on Nina's back, rubbing them gently on her shoulder blades.
She kissed Nina again and again, on her temple, cheek, eyelid, nose, the corner of her mouth. She was so precious. Sleek, small-boned, but fierce and sharp, like a bird of prey, hooded and caged, but never quite tamed. And I have set you free, and you chose to fly to me.
"I love you. Darling," she whispered in her ear, in her huskiest, deepest voice, and Nina shuddered all over while her spine gave a twist, as Julia knew it would. Nina turned under her, to hug her and draw her body down. Julia moved her knees within Nina's legs, and just like that, without any difficulty, her untimely erection found a place to go.
So wet. How can you become so wet just by looking at me? What do you see that nobody else ever saw? What do you see that even I don't see? Julia sank her face in Nina's neck, to kiss her, bite her, whisper in her ear, yes, oh yes, whisper and murmur and cajole, until my voice will make you melt, my love, my love, my love.
You can also find an exclusive excerpt on my website, here:
http://meetingivory.wixsite.com/katherinewyvern/copy-of-woman-as-a-foreign-language
And of course you can download the beginning of the story for free from Amazon!
Buy Links:
Woman as a Foreign Language at Evernight:
http://www.evernightpublishing.com/woman-as-a-foreign-language-by-katherin-wyvern/
Woman as a Foreign Language on Amazon.com:
https://www.amazon.com/dp/B075RR8K1S/ref=sr_1_1?ie=UTF8&qid=1505902876&sr=8-1&keywords=woman+as+a+foreign+language
Social Media Links:
Katherine's Blog: https://katherinewyvern.blogspot.fr/
Katherine's Website: http://meetingivory.wixsite.com/katherinewyvern
Katherine's Author Page: https://www.facebook.com/Katherine-Wyvern-Author-122569301260917/