Hash Tags: #MMF #Menage #Erotic #Contemporary #Series #HEA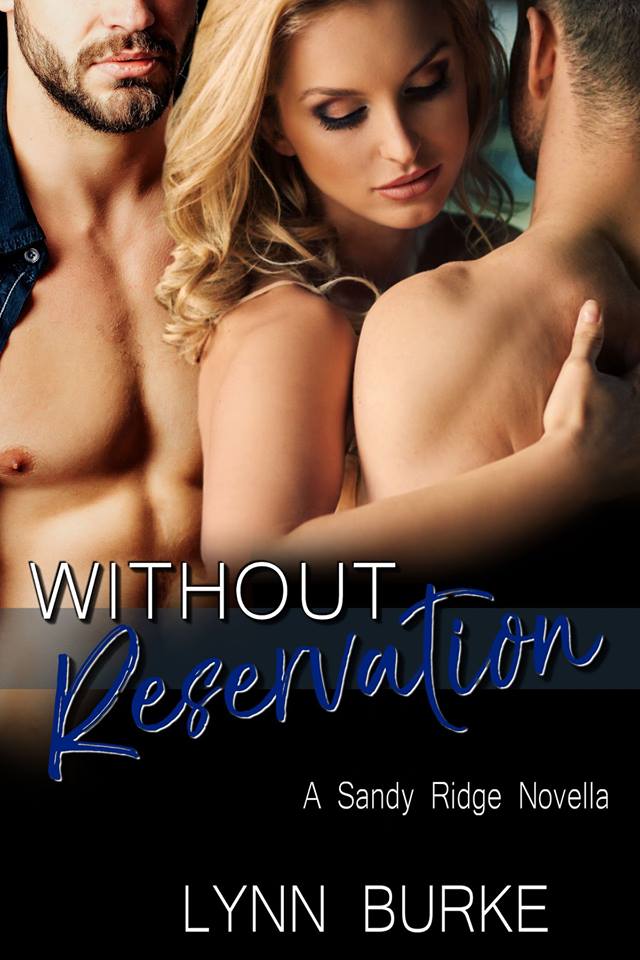 Without Reservation
Sandy Ridge 1
By Lynn Burke
Heat Level: 4
Release Date: September 19, 2018
ASIN: B07H1G28PX

Keywords: MMF, Menage, Erotic, Contemporary, Romance, Series, HEA, Novella

*Be warned: Multiple partners (MMF), anal sex, double penetration

Art studio vandalized and her mother in a fresh grave, Meg Winters heads off on vacation with her two best friends. She hopes for peace from her grief and the return of her muse. She doesn't expect to run into the two men she idolizes, Trevor and Jack, the secretive wonders of the art world whose work she's long admired. She certainly doesn't expect them to be sex-on-legs gorgeous and determined to fulfill her number one sexual fantasy. They not only awaken her slumbering body, but also her creativity and the life she used to wield with her brushes.

However, Meg carries a secret of her own which holds her back from surrendering herself fully to their desires. Will Trevor and Jack be able to overcome her reservations, or will the truth of her past ruin their chance for love?
​PURCHASE LINKS:

Books2Read: https://www.books2read.com/b/bP5oG7

Amazon: www.amazon.com/dp/B07H1G28PX
Amazon UK: www.amazon.co.uk/Without-Reservation-Sandy-Ridge-Book-ebook/dp/B07H1G28PX
B&N: www.barnesandnoble.com/w/without-reservation-lynn-burke/1129453503
Kobo: www.kobo.com/us/en/ebook/without-reservation
Smashwords: www.smashwords.com/books/view/892828
EXCERPT:
Meg's gaze dropped to Jack's full lips. "Maybe just one kiss," she heard herself say.
He captured her lips without hesitation, sending a rush of heat and goosebumps skittering across her skin. His soft lips swept across hers as his hand slipped up her back and grabbed hold of her hair, angling her head toward him.
The brush of his tongue along her lips sent a spasm through her pussy, and a moan rose to her throat.
Trevor leaned into her, his open-mouth kisses dampening her neck as Jack continued his languid assault on her mouth. Tasting. Licking.
One man's hand in her hair, the other's on her waist, one on each thigh, rubbing, slowing inching upward.
Meg tore her lips from Jacks, heaving for breath, eyelids clenched shut.
One kiss, she'd said. She hadn't expected a long, drawn-out kiss that would make her body quake with need.
"Come over to our cabin with us," Trevor said, his low voice rumbling in her ear, his thumb drawing circles mid-thigh on her bare skin. "Check off your number one bucket list item."
Jack nibbled along her jaw to her other ear. A shiver slid down to her toes as he squeezed her other thigh. "I…I c-can't."
"Does the thought of Trevor and I together turn you off?" Jack asked, nibbling her earlobe.
A huff of laughter flew past Meg's lips as the two men continued their assault on her senses. "I saw you kissing on your back patio the other night." The words escaped her parted lips, unintended.
Trevor nipped her skin in the hollow beneath her ear. "How did that make you feel?"
"Aroused," she whispered, eyes still shut tight. They pulled answers from her easier than…
"I was thinking about you while fucking Jack."
A rush of moisture soaked her panties at Trevor's low, rumbled confession against the hollow beneath her ear. "I-I heard you."
"Did you touch yourself?" Jack asked against the corner of her mouth, his sweet breath fanning her lips.
Meg swallowed. "Yes."
"Did you come?"
"Yes," she whispered.
Both men groaned.
"Come to our cabin with us," Jack said. "Please."
Meg thought she'd known what temptation was, but the war raging between her body and mind put a whole new meaning to the word.
© Lynn Burke 2018
Follow the link below to the complete series:
https://www.amazon.com/gp/product/B07KFKYGCK?ref=series_rw_dp_labf
ABOUT LYNN BURKE:

Lynn Burke is a full time mother, voracious gardener, and scribbler of spicy romance stories. A country bumpkin turned Bay Stater, she enjoys her chowdah and Dunkin Donuts when not trying to escape the reality of city life.
Website: https://www.authorlynnburke.com/
Blog: http://authorlynnburke.blogspot.com/
Facebook: https://www.facebook.com/Author-Lynn-Burke-555282497937461/
Twitter: https://twitter.com/AuthorLynnBurke
Instagram: https://www.instagram.com/authorlynnburke/
Tumblr: https://www.tumblr.com/blog/authorlynnburke