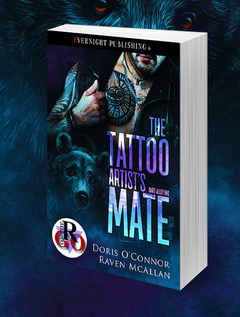 Welcome Raven and thank you for honoring my blog with the release of your new book, The Tattoo Artist's Mate. I know you have much to say about how the book came to be and your relationship with your friend Doris. Before you go on, I'd like to add a brief a personal note:
Though we may or may not realize it, to those of us who were touched by Doris' loving and sometimes honest, critical critique-hand (a writer could never ask for better or more) her own writing and creativity will live on in each and every story we produce. She was one in a million, and she is dearly missed. ~ Kory Steed
Kory Steed
Hi there and thank you for welcoming me to your blog, on this bittersweet occasion. (this is Raven)
As most people know, my bestie, the sister I'd never had, the other half of me, the lovely Doris O'Connor passed away in January from Cancer of an unknown primary.
To say this knocked me for six is an understatement. We knew it wasn't going to be a good outcome, but it happened so fast. Those of you who followed her on Facebook and twitter will know how it went.
Ironically, she rang me to tell me, just as I was…at a large supermarket collecting for cancer research!
When she went into hospital she was in pain and bored. Nagging me over my Regencies (finish it already, write the sex, just do it) and wondering how to pass the time.
I remember a germ of an idea we'd had a couple of years ago about a tattoo artist who was a shifter. Wrote the first bit and sent it to her with a note…over to you…
I got a giggle gif and a thumbs up. Then Doris' words. It was, I was told up to me to amalgamate everything.
So the Skype messages went back and forth, and we plotted the story, wrote it both in sequence and odd scenes we knew had to go in somewhere.
Until the time she was in too much pain to write any more. But she did make me promise to finish the book. Add as much as was needed, but finish it.
So I did.
This is the result of our collaboration.
I have two hope…okay three.
One, you enjoy it,
Two you can't see the seams,
Three we sell lots and lots and lots and give Doria a fabulous best seller send off.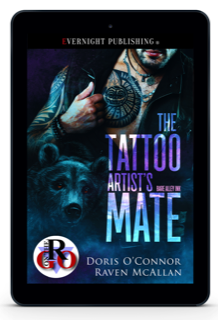 Blub
When Isla Campbell leaves her so-called Dom, she is determined never to sub again. All she wants is her tattoo removed and to live a quiet life with no dominant, or domineering men in it.
Until she meets Gaspar MacDonald, tattoo artist and unbeknown to her, a bear shifter.
Isla calls to Gaspar in the most basic of ways, he knows she is his mate.
Now all he has to do is persuade Isla of that fact. Oh and explain he's a Dom, and a shifter, and that subbing for your Dom is not what she thought it was, but much better.
Will Isla trust him enough to discover if they have what would be the perfect match?
Fancy a wee tease?
Here you go…
~~ . I didn't get a chance to answer. I was too busy trying not to come as he kissed and then sucked my nipples, and saints above, began to play with my clit. Oh Lordy, so bloody good. I think I moaned, but to be honest, I was drowning in the sensation so I had no idea.
Somehow, I managed to find his cock and stroke it. It was Noah's turn to moan now.
"Fuck it, I want to be in you. Need to be in you, and I've no bloody condoms." He moved away a bit and I took advantage of the fact to get onto my knees, take his cock into my mouth, and lave it.
Not a boy scout then.
"On the pill," I mumbled around a mouthful of hot, hard, but soft as silk, male flesh. "Clean, and fuck it, fill me." I took one long hard pull on his dick and let go with a plop. Better than an ice lolly any day.
Noah didn't hesitate, thank goodness, and had me on my back and his cock poised at the entrance to my channel faster than I could say climax.
"Got to be now, love."
Just as well.
He pushed. I clenched my inner muscles—thank goodness for Kegel exercises—and held him tight. Noah swore and laughed. I grinned and we set up that age-old motion of in, out, tighten, release until I felt him swell even more inside me.
My nipples hurt in the best possible way.
"Sheesh, now got to be, oh Lord, help please…" I was almost incoherent, sobbing, throbbing, and any other ing you could mention. It was pleasure, it was pain, it was…
"Now!" Noah roared, and his hot, sticky release filled me.
"Yes." I let myself fly and saw stars as my climax hit me with all the subtlety of a baseball hit by a champion.
Yeah, I was a screamer. Did I care? Not one bit. I moaned, groaned, and wriggled as well. Loved it all.~~

You can get hold of Gaspar from
Evernight Publishing https://www.evernightpublishing.com/the-tattoo-artists-mate-by-doris-oconnor-and-raven-mcallan/
Amazon. com https://amzn.to/2FjgY86
Amazon Uk https://amzn.to/2KWi5Ou
Smashwords https://www.smashwords.com/books/view/944640
Bookstrand
Kobo https://www.kobo.com/us/en/ebook/the-tattoo-artist-s-mate
If you do decide to read this, the first story in Bre Alley ink, and like it, love it or tollerate it, We'd love a review. No pressure, just lots lof love,
Raven xx