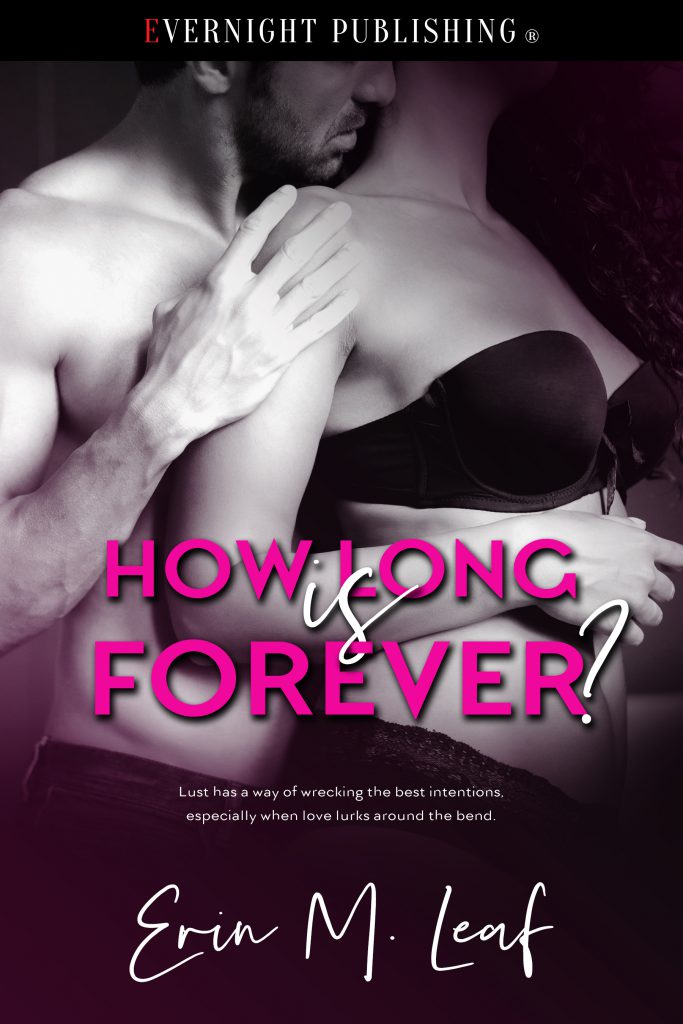 I know what it's like to feel out of place. To feel like your body is rebelling against you. My heroine, Eva, struggles a lot with feeling like she is too big and too smart, and she needed a hero who could accept that with open arms. Charlie is that guy. <3
How Long Is Forever?
Too tall, too smart, too fat—Eva is sick of guys treating her like crap because they can't handle her curves or her brains. It's time for her to ditch her pesky virginity, and when she needs help, there's only one man on her shortlist: Charlie Greenwood, her dad's best friend. So what if he's too old for her? So what if he's the guy she's been crushing on for years? He was her rock when her parents died, and he's the only man who treats her like a human being instead of a joke.
Charlie knows he shouldn't look at Eva the way he does, but she's got curves that go on forever, and he's a sucker for a smart woman. So what if she's too young for him? So what if he can't stop imagining her in his bed? In his arms? Looking isn't doing, right?
When Eva propositions him, suddenly looking isn't enough. Lust has a way of wrecking the best intentions, especially when love lurks around the bend.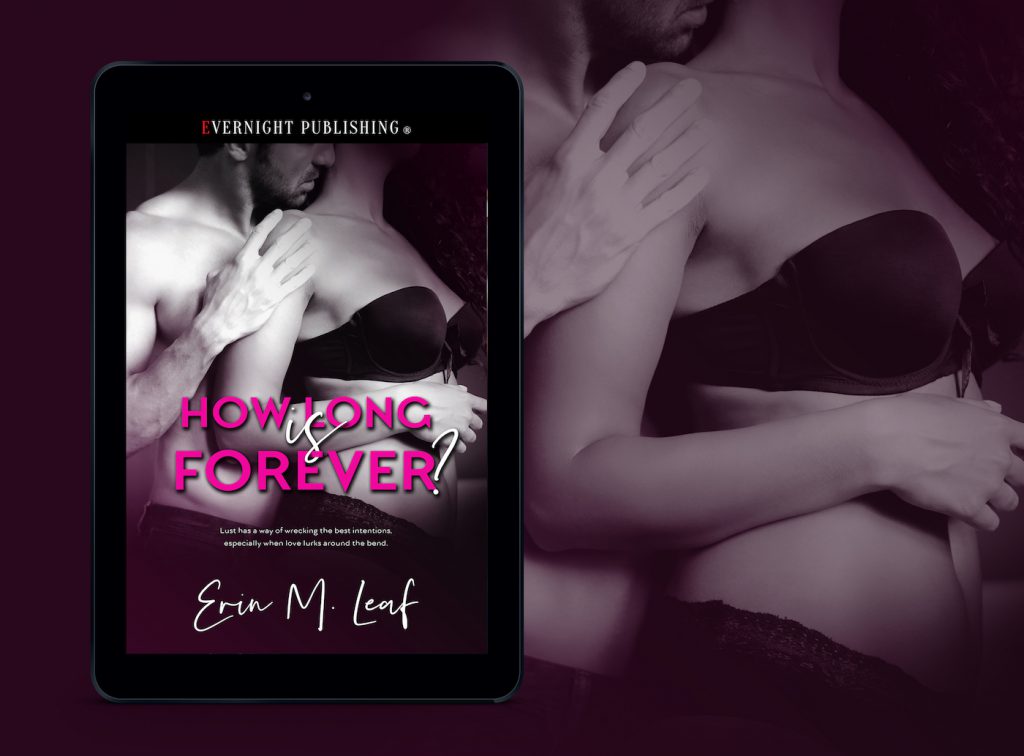 +18 Reader only Excerpt:
Eva gasped as Charlie's lips met hers. He felt big and strong and so fucking hot she could barely think before he kissed her, but now her brain went nuclear—sparks in all directions. She mindlessly scrabbled at his arms and sank her fingers into his shoulders. He didn't flinch. He didn't stop or push her away. He took everything she threw at him like a solid wall of awesomeness.
"Beautiful," he breathed, breaking for air.
She sucked in a breath, but before she could say anything, he kissed her again. He hauled her up against him, moving her as if she weighed nothing at all. Eva squeaked, but Charlie didn't let go. He kissed her deeper, sweeping his tongue along her lips and then into her mouth as if he would die if he couldn't taste her. When he finally lifted his head, she swallowed, hard. She had to look up to see him, and wasn't that something else. Holy what the fuck. Be careful what you ask for, she thought hazily. Her lips tingled. Her pussy tingled, and he hadn't even gotten to second base.
Charlie didn't speak. He looked at her with eyes gone dark and hot. He didn't let go. He loomed over her like a beast, and Eva shivered and dug her fingers into his muscles. He didn't even seem to notice. She liked him like this. She liked him in every way it was possible for a woman to like a man.
"Wow," she whispered. Her lips felt swollen. Her tongue felt stupid. She bit her cheek so she wouldn't beg him for more.
"Is this what you wanted?" he finally growled, aggressive and so damned male she shivered.
Eva licked her lips. "Yes." It was her first kiss, and it was everything she'd ever wanted: a man who wasn't afraid of her brain or her size or her strength. Charlie had no idea how rare that was. She gathered her wits. "More," she said. "Please."
Charlie inhaled sharply, eyes on her mouth. "God help me." And then he lowered his head.
Eva trembled, expecting his lips on hers again, but instead, he kissed down her jaw to her throat. His mouth was hot and soft and ridiculously gentle.
"You smell like citrus," he said, voice low and rumbly. "I want to eat you up."
Good lord. Eva moaned, then hissed when he scraped his teeth along the sensitive skin near her ear. "Don't stop," she said, finally getting the courage to slide her fingers up into his hair. He still had some dried flecks of joint compound in it, and she smoothed it out of the strands as he kissed her again. For the first time, she tried to kiss him back. When her tongue met his, he groaned.
"Yeah. That's it, honey." Charlie bit her lip, then soothed it with his mouth.
Eva found herself writhing against him, trying to get closer. No wonder people do crazy things for love, she thought, wishing she could crawl inside him. His body pressed hard and heavy against hers, and he didn't even budge as she wriggled. Something hot and thick pressed against her abdomen, and with sudden clarity, she realized it was his erection. Charlie was aroused. The sudden knowledge was enough to jerk her out of her sensual reverie. "Oh my God," she said, voice breaking. "Oh my God."
"Not God, Eva. Just a man." Charlie kissed her again, sliding his hands up her body. One slid around her right breast, flicking the nipple. She hadn't bothered with a bra, and clearly, he'd noticed. He cupped her and rolled his hips into her in a slow facsimile of fucking. "You're so fucking gorgeous. Lush. Perfect." His fingers teased her nipple into a tight, aching point. "Fuck. I want you so bad. I can't stop touching you. Make me stop, Eva. Tell me no."
Stop? Like hell I will, she thought, urging him on with her body. Eva's skin prickled as pleasure shot from her breast to her clit. Her pussy throbbed, swollen and wet. She wanted more. So much more. She'd be totally okay if he wanted to go all the way with her right now. She wished he would.
"Please, Charlie," she said, shocked when her voice came out soft and breathy. The best part about all of this was that she knew Charlie. She'd been half in love with him for years, and she could easily slip the rest of the way down that particular rabbit hole. She slid her hands down over his waist, then up under his tight shirt. His skin was silky smooth. Muscles contracted under her fingertips.
"I shouldn't be doing this," he muttered, even as he kissed her again. "I'm just going to hurt you."
"No, you won't." Eva wound a leg around his thigh. His cock was so hot it felt like a brand against her belly. She couldn't even imagine what it might feel like inside her. "I want you to do this, Charlie," she said, just in case he got the ridiculous idea that he was forcing her into it. "I asked you for this, remember?"
Charlie growled again, sucking on her neck. It hurt. It felt divine. Eva sank her hands into his hair and made fists as he ravaged her neck. The harder she pulled, the wilder he became, so she gripped his hair with all her strength. When he bit down, she gasped, trying to get some friction at the juncture of her thighs. If he would just move his leg a little bit to the left…
He slid his hands down and cupped her ass, hauling her up against him. Eva ended up grinding down on his thigh. She shuddered, head falling back. She'd fingered herself to orgasm a hundred times, but it had never felt like this. Nothing in her life had prepared her for this.
"Charlie, please," she begged, not sure what she was asking for. "I need more."
He kissed her again, then slowly lowered her down and grasped her wrists. "Eva," he said, whispering her name into her ear. "Shh, baby."
"Wait, no," she said, trying to get closer again. Why was he pulling away? She was so close.
Charlie panted, his forehead on her shoulder. "We have to stop."
Eva shook her head. "No, we don't. I know you, Charlie. I picked you for my first time." She tried to pull her hands free, but he tightened his grip, and damn it all to hell, the restraint excited her even more. She loved that he was strong enough to handle her. No one else had ever even tried. "Please. I'm not a child anymore. I'm not just your best friend's daughter, and you know it."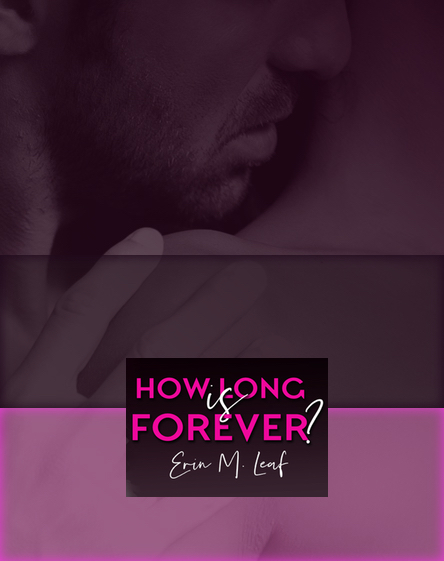 Buy Links:
Evernight: https://www.evernightpublishing.com/how-long-is-forever-by-erin-m-leaf/
Amazon: https://www.amazon.com/dp/B07TYSSVFJ
BookStrand: https://www.bookstrand.com/book/how-long-is-forever-mf
SmashWords: https://www.smashwords.com/books/view/947072
Kobo: https://www.kobo.com/us/en/ebook/how-long-is-forever-6
NOOK: https://www.barnesandnoble.com/w/how-long-is-forever-erin-m-leaf/1132315057
—
Erin M. Leaf
—