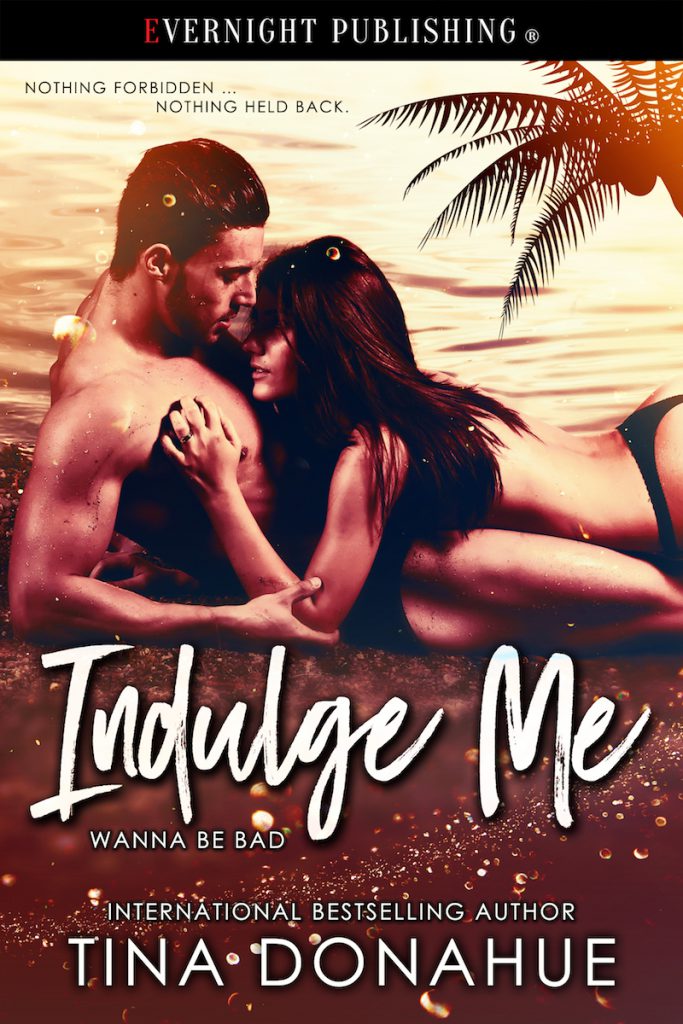 Teaser:
Nothing forbidden…nothing held back.
Lissa prefers reading to cutting loose, but is willing to do whatever it takes to get the juiciest assignments for her job at a major travel magazine. Her chance finally arrives. She's set to experience a posh Caribbean resort, a dream article and review except for one huge problem. It's the anything goes theme week where nudity is expected and lusty hook-ups make threesomes look downright tame. Holy Hell. What has she gotten herself into?
Precisely what resort owner Jon Thorne thinks. Tall, dark, and luscious, he fears the randy male guests will eat her alive, resulting in a lousy review. His only option is to serve as her guide for every decadent delight from nude body painting to Dom's Den where submission and punishment rule. Unless she wants to call the whole thing off…
And lose her chance with him, plus give up this gig? Dream on. Tempted beyond anything she's known, she matches his passion and then some, surprising him during a sexy adventure like no other.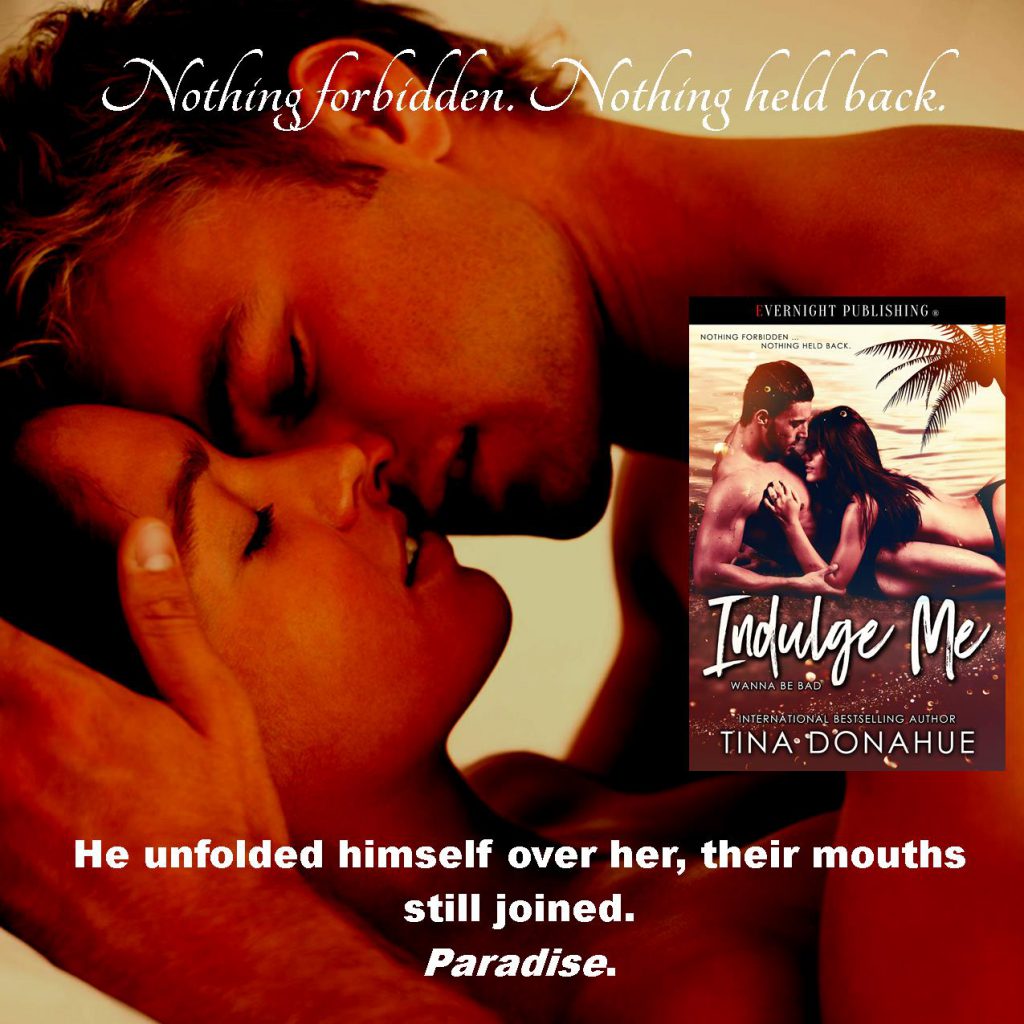 X-RATED Excerpt:
They placed a sugared grape in her navel, two thin mango slices beneath her breasts, laid a pineapple slice over each nipple, settled a chocolate-coated strawberry in the hollow of her throat and on each palm, then glided beef au jus on her inner thighs.
She fought for breath, their touch further igniting the fire within her.
Using the spoon, Jon spread passion fruit over her bush.
She gurgled.
The guys held her tighter.
Jon gobbled the strawberry on her throat and suckled her neck, creating indecent pleasure.
The two holding her wrists wolfed down the chocolate strawberries on her palms, sucked her fingers, and planted wet kisses on her arms. The ones grasping her ankles, lapped au jus from her inner thighs.
She bucked.
Jon held her down and licked the pineapple slices surrounding her nipples, touching her areolas and tips more than he did the fruit.
Heated waves washed over her, turning her limbs to jelly, making them so deliciously weak she never wanted to leave this spot.
As the others feasted on her arms and inner thighs, he finished the pineapple and mangos, then focused on the grape, chasing it around her stomach like a ball, his licks arousing her past the point of no return.
Fighting for control, she tensed.
The grape rolled off her, settling next to her hip.
He grasped her upper thigh, bent down, and ate the piece, his fingers near her pussy.
She sucked in air. Didn't help. The hut kept swimming, the candlelight blurred.
"Hmm." He licked his lips and pressed his forehead to hers.
Gasping, she gathered enough strength to capture his mouth. He tasted like chocolate, sugar, pineapple, and a surprisingly tart flavor. This was eating at its finest.
He pulled his mouth from hers and heaved air, wonder in his eyes.
His reaction was the best present he could have given her. This wasn't a surprise. It was a freaking miracle.
Settled between her legs, he lowered his mouth to her bush, but bypassed it and the passion fruit to tongue her cleft.
Jesus mother.
She arched her back, her legs wobbling, skin tingling from too much stimulation.
Her jailors clamped down.
She fought them to get to him. Even if she hadn't liked him as much as she did, she wouldn't have stopped what he'd planned for her. He was a damn artist in the sack, gliding his tongue down her slit then back up to lick her nub.
She pulled air in too fast and coughed.
Gripping her thighs, he lapped her cleft as he might an ice cream cone, sometimes touching her clit, sometimes not, his actions becoming a hit or miss proposition as far as making her blast off. Deliberately, he kept her from climaxing, drawing out the pleasure, her excitement growing only to wane before she reached her peak.
Perspiration glazed her throat and neck. Frustrated at him denying her, she lifted her butt and pushed her pussy closer to him.
Hand on her stomach, he guided her back down and kept her there, as the others did her legs and arms.
Her heart quivered at their alpha ways. She stayed where she was, until she ached to get closer to Jon and finally fought him and them.
On a huff, he broke the others' hold on her legs, propped her calves on his shoulders and resumed his torment.
She clawed her captors' shorts.
They didn't let go.
She scratched their balls.
They pulled her hands away.
Jon indulged, slipping two fingers in her opening while suckling her nub.
Something inside her coiled and nagged. An itch she couldn't scratch, her pussy constricting around his fingers.
He spread them, making this more intimate, downright base.
Powerless against his strength, she dug her nails into her palms, using pain as a distraction to keep from nearing climax too fast and having him delay it as before.
He worked his fingers deeper into her pussy then pulled them back, repeating the process to mimic a fuck, his pace on her clit increasing, his suckling pushing her to the limit.
Delight pressed close then scampered away only to return a second later. Pulling in any air became impossible. Her world centered on her nub, the wondrous pressure that kept building and torturing, refusing to stop.
She stiffened and gasped, everything within her exploding. Dazzling pleasure swept over her, heating her clear to the back of her mouth, making sounds sharper, touch more acute.
Her pussy went wild, a strong pulse beating rhythmically deep inside.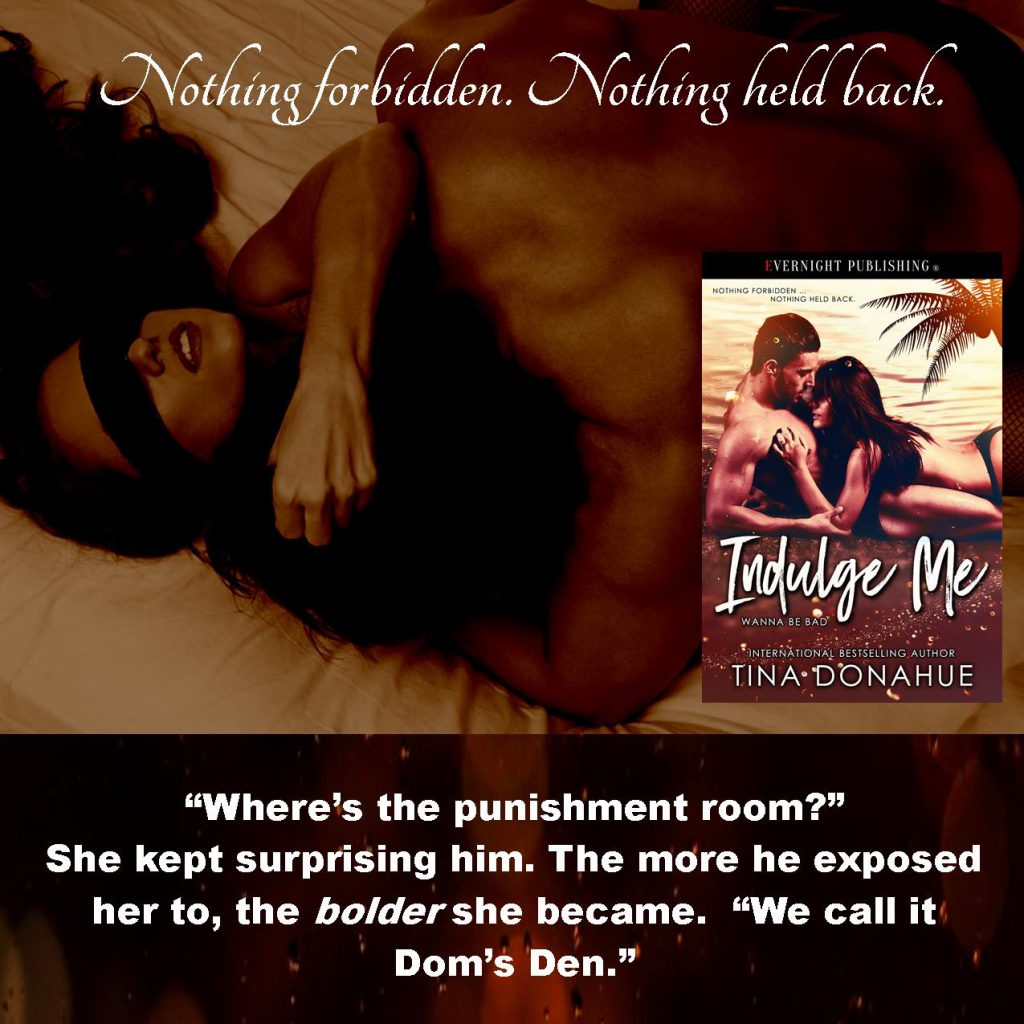 Amazon: https://amzn.to/2LT2xwg
Evernight: https://bit.ly/2yxaMpe
Smashwords: https://bit.ly/2T5cGad
Nook: https://bit.ly/2K8QLvH
Kobo: https://bit.ly/2GHuNOq
Apple: https://apple.co/2T4jbd9
Bookstrand: https://bit.ly/2Kn1elZ

About Tina:
Tina is an Amazon and international bestselling novelist who writes romance for every taste – 'heat with heart' – for traditional publishers and indie. Booklist, Publisher's Weekly, Romantic Times and numerous online sites have praised her work. Three of her erotic novelswere Readers' Choice Award winners. Another three were named finalists in the EPIC competition. One of her erotic contemporary romances was chosen Book of the Year at the French review site Blue Moon reviews. The Golden Nib Award at Miz Love Loves Books was created specifically for one of her erotic romances. Two of her titles received an Award of Merit in the RWA Holt Medallion competition.Another two won second place in the NEC RWA contest (different years). Tina is featured in the Novel & Short Story Writer's Market. Before penning romances, she worked at a major Hollywood production company in Story Direction.


FB Fanpage: https://www.facebook.com/DonahueTina1/
Email: tinadonahuebooks@gmail.com
Website/Blog: http://tinadonahuebooks.blogspot.com/
Bookbub:https://www.bookbub.com/authors/tina-donahue
Instagram: https://www.instagram.com/tinadonahuebooks/
Goodreads: http://bit.ly/1wFmIu6
Twitter: https://twitter.com/tinadonahue
Facebook: http://on.fb.me/1Dl8DHy
Triberr: http://bit.ly/1CE2ec7
Pinterest: http://bit.ly/1yFLeMx
Amazon author page: http://amzn.to/1ChWFkO
My page at TRR: http://bit.ly/1vb7eEc
Kensington Author Page: http://www.kensingtonbooks.com/author.aspx/24772
Sweet 'n Sexy Divas: http://bit.ly/1ChWN3K
Romance Books 4 US: http://bit.ly/1JPtfeS