Hello, M.A., your new novel, Jungle Rapture, sounds intriguing. Jaguars and shifting, that's so cool!
This is the first book in your series, The Jaguar Queens. How exciting!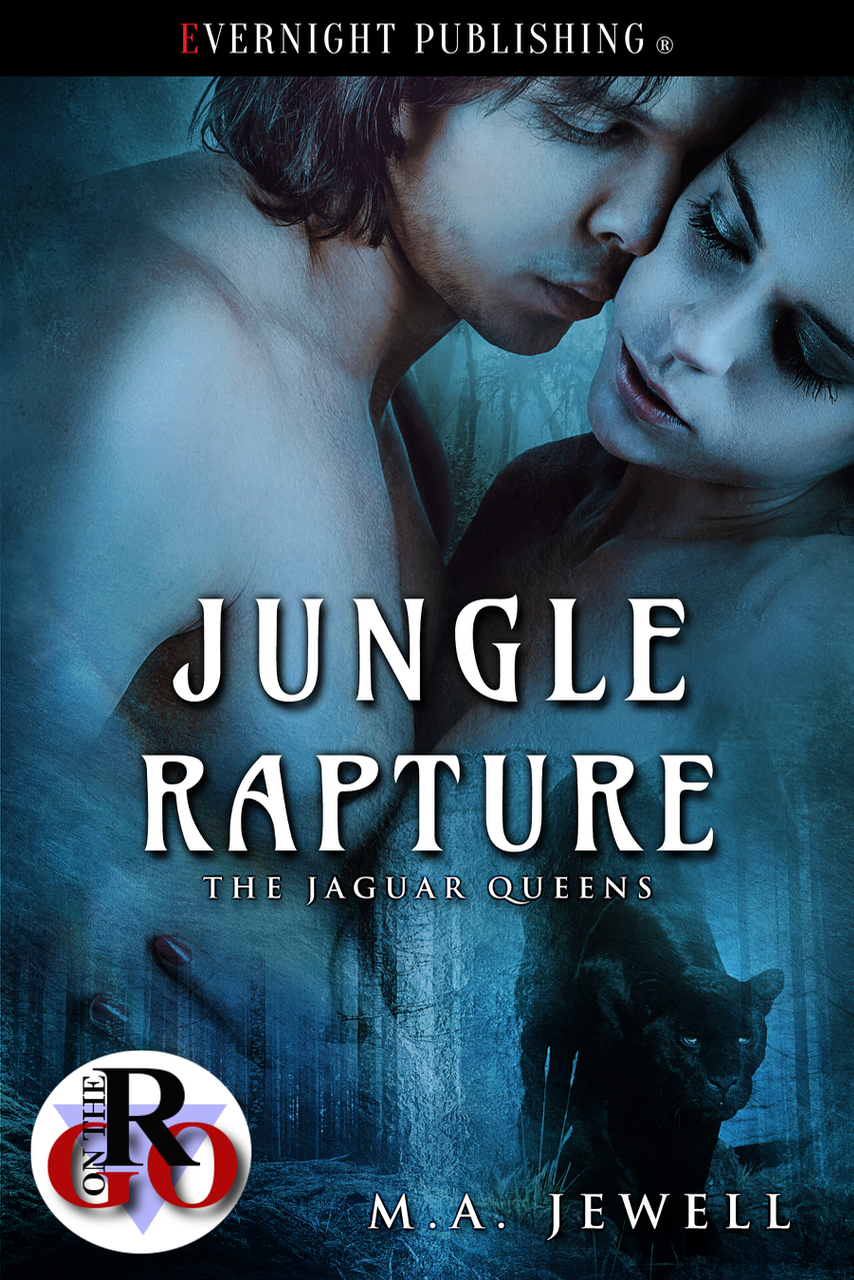 What would you like readers to know about your book?
As I researched poaching and the plight of those endangered species, I developed a passion for my subject. The injuries incurred by Cinnamon (a natural jaguar in Jungle Rapture), were taken directly from a shameful account of a jaguar snared in the United States. Truthfully, I scaled back from real life. That jaguar ultimately died due to his injuries.
What was it like to write the story? Did you face any difficulties/challenges?
Thrilling!  Once I visualized the opening scene and outlined the plot, I couldn't stop. I hand wrote most of the first draft during an over-night flight to Bangkok.  During my stay at a Thailand hotel, I transcribed the story into Word.
While there, my computer was attacked by who-knows-what and froze solid.  In my frenzy to write, I hadn't once backed up the manuscript. After a nail-biting trip to the mall, I mimed my problem to a scary-looking computer person who didn't speak English. I left with my laptop running, manuscript intact…but all the text read in Thai.
What do you love about your story, and why?
I truly adore my characters. Kelsi is real, she is strong, and she is flawed. Jaime is a sensitive, protective male with too much pride. Together, they meet in the middle and save each other.
What have you learned from the main characters in your story?
Courage. I came to writing later in life, mostly due to cowardice. Fear of what others may think or say about my work intimidated me. When I wrote Jungle Rapture, I held nothing back. I leapt out the window of my own choosing.
Do you write in other genres and if so, what are they? What genres would you like to try that you haven't already?
Critique partners have talked me into trying contemporary, which is amazing since I don't usually read this subgenre. One day I may try a historical. I love to read them.
What or who influences your writing?
I think every book I've ever read has influenced me to a degree. I credit voracious reading with my interest in writing.
Where do you find your inspiration?
From childhood, events have always triggered daydreams. For me, a spoken phrase or an emotional exchange between people triggers a "what if?".  A well-done photo or painting makes me think of a scene to accompany the image. Last, but most effective, is writing. Drafting Jungle Rapture triggered plots and characters for Book II & III. Any emotion-evoking stimulus prompts a scene in my head.
Who are your author idols and if you met them what would you say to them?
Nalini Singh, Diana Gabaldon, Jeaniene Frost are a few.  I would thank them for the hours of entertainment!
If you had to choose your three favorite books by other authors, what would they be and why? 
Outlander (Gabaldon) would be my overall favorite. I love epic reads that combine history with characters who come alive in my head. I still remember skipping an activity to race home to see how Claire would save Jaime. Admittedly, I even worried about them during my work shift. The level of skill required to involve a reader to that degree – pretty impressive.
Do you have any interests outside of writing, and if so, what are they?
The biggest draw in my life is my first grandson. Perfect of course. So if babysitting is an outside interest, I'm all over it.
What is your next literary project?
Falling: Small Town Love Anthology will be self-published by my critique group, Omaha Romance Writers and Critique Group -led by Jules Dixon. My contribution will be a contemporary novella titled Autumn Renewal.
Somewhere between that and Christmas, I hope to submit a full length novel,  Jungle Salvation, The Jaguar Queens Book II to Evernight.
Blurb for your book:
Jungle Rapture
An advocate for endangered species, journalist Kelsi Gorman travels to the Brazilian Amazon to locate a mysterious black jaguar the size of a saber-toothed tiger. Instead, the enormous cat finds her knee deep in mud, blood, and smugglers.
Jaime Salazar, one of a few surviving all-male jaguar shifters, encounters a scent he never thought to find –female jag shifter. Jag queens exist only in the elders' stories, but someone staked out a she-cat like poacher bait.
In a fit of primal instinct, Jaime marks Kelsi as his mate. Now, no other female will arouse him. To avoid a long celibate life, he is forced to woo his reluctant mate-to-be. But first, he must keep her alive.
Excerpt from your book:
Chapter One
Tears blurred Kelsi Gorman's view of David's body, face down in the mud, only feet from her in the tight Amazon clearing. His camera pack rested against his side with a strap still looped over one shoulder. She was too terrified to mourn, as her grief-numbing dread consumed her.
A few yards to the south, a limp, muddied jaguar appeared just as dead. Wire cable stretched taut from a rust-colored front paw to a tree-embedded anchor about knee high. Jungle-floor sludge painted over her rosettes.
Kelsi almost wished the poachers had tranquilized her, too. Twine scored her wrists secured behind a tree trunk. Her hidden hands trembled with mounting panic as she picked at the knotted hemp.
A twenty-something Brazilian with coffee-toned skin stepped toward her, his pungent body odor preceding him. He stood nose to nose to her five-foot-seven height. Dark eyes scanned her body. Kelsi turned from his scrutiny and swallowed against the stench.
His steel rifle barrel lifted her chin. He turned a questioning look to his partner. Kelsi stilled. This was it. She strained to catch meaning in their Portuguese. "Carlos? Green eyes … sell … Manaus. Good money."
Sexual enslavement terrified her, but also ignited hope. Stay alive. Traffickers dealt in drugs, exotic animals, and human cargo—and Brazil was a hotbed for all three. These poachers would be connected to the slave trade. An escape into Manaus, the capital of Amazonas, seemed possible, unlike here, surrounded by savage rainforest.
Stocky, with close-cropped, graying hair, and equally fragrant, Carlos appeared in charge. His hands stilled on a portable cage he assembled. "Too old, Julio! White … United States!"
Bile rose to Kelsi's throat. She tilted her head and widened her eyes, willing the older man to find her marketable, a challenge, since her shoulder-length, chestnut hair stuck to her face in damp clumps. Nor did her sweat-ringed shirt and baggy pants show her figure to any advantage.
Disgust plain on his face, Carlos berated his partner, gesturing to David's body. They spoke too fast for Kelsi's elementary Portuguese. But apparently, Julio had erred when he killed her photographer.
If they didn't sell her… Kelsi's blood ran cold. 
Finally, Carlos leveled a black-eyed glare at Julio. "Police … kill her."
Julio sent Kelsi a startled look. For an instant, she thought he'd refuse. A defeated expression lined his face before he pulled his gaze away.
Heart pounding a staccato beat, she pushed back at the eruption that clawed inside her chest. Not now! Panic-filled eyes would give her away. If the poachers realized she understood them, she'd lose her only advantage. She jerked her gaze to the tangled foliage behind them.
Deafening bird racket burst from the canopy high above. As the pandemonium died down, a cough came from the undergrowth. The poachers froze. Both men leapt to the center of the space and stood back to back. Carlos lifted a tranquilizer rifle against his shoulder, loaded a dart, and slammed the bolt into firing position. Julio mirrored him with his own lethal weapon.
They turned in sync, scanning the green morass. Kelsi shuddered when the business end of Julio's loaded rifle passed over her. Behind the two men, giant spade-shaped leaves pulsed as a shadow moved between them. Her heart jumped under her sternum. Maybe the cowardly guide she'd hired had returned. She dared to hope for a rescue.
"I'm an American! U.S. Army Rangers will come for me!" She shouted nonsense to distract the two men. Unless the no-good jungle expert returned, she and the poachers were the only humans within fifty miles.
Carlos gave her a dismissive glance, but appeared satisfied nothing lurked outside the clearing. Julio ignored her and paced to the immobile cat.
"I'm so sorry," she whispered to David. Tears streamed her face.
She'd lured him to his death with promises of publication in the National Geographic. An article on a black jaguar, rumored to be the size of a saber-toothed tiger, had meant so much to her. Now, she'd join David.
Carlos strode to the man's body and pulled it to its side. No longer flaccid, the corpse turned board-like. Various sized ants traveled his skin, already doing Mother Nature's work. Nausea churned her stomach. If rigor mortis had set in, she'd been tied up for at least two hours.
After taking their wallets from their backpacks, Carlos grabbed the camera and used his machete to cut the strap from David's neck. He fumbled the memory card from its slot then dropped the high-end Canon into the mud.
Images of the two poachers charging the thrashing jaguar had earned David a bullet to the chest.
"Idiota." Carlos spat at the ground. With a booted foot, he shoved David back into the muck. The wet slurp broke something inside her.
"You disgusting pig! Don't touch him!" Angry sobs punctuated her outburst. Without sparing her a glance, Carlos joined Julio near the unconscious jaguar.
Kelsi scanned her surroundings with new determination. Trees, a couple feet apart, reached skyward in a palisade-style cage while congested vines and ferns defended the ground beneath. All home to myriad toxic plants and venomous creatures. Beyond the jungle gauntlet—a three-day hike to the north—lay the only route to civilization, a caiman-infested river. Escape would be short-lived, but she had to try.
A few feet away, Carlos propped his machete against a stump. "Cage … jaguar."
Kelsi plotted her moves to escape her bonds. She'd grab the blade, decapitate Julio, and run Carlos through mid-body. The men struggled to load the cat into the kennel. Both laid their guns down to use their hands. Her best shot at freedom had materialized.
With all her might, she jerked her left arm once, then twice to no avail.
Carlos and Julio turned toward her as one. Julio retrieved his rifle as he rose. Time to pay for her long-odds wager. Black seeped into her vision. Tears obscured her executioner's face. "Please, Julio. Don't."
He didn't meet her eyes. The squish of his mired steps halted at her side. Metal grated as the rifle's bolt slid back. A round clicked into the chamber. Cool steel pressed to her temple.
"Our Father, who…" Her shaky words trailed away.
Buy links:
Social Media Links:
Facebook: https://www.facebook.com/melody.jewell.5245
Twitter: https://twitter.com/MAJewell_author
Goodreads: https://www.goodreads.com/author/show/16785164.M_A_Jewell