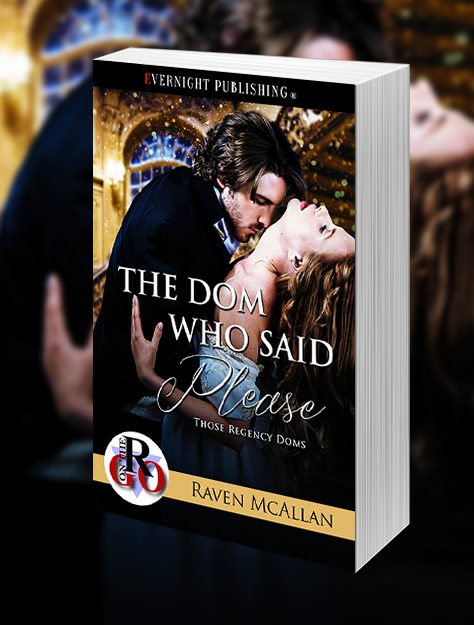 Welcome again Raven. I'm so pleased to host your new Regency Romance Novel, The Dom Who Said Please. What a wonderful gift you've created for out dear, late friend, Doris O'Connor.
Hi there, and thank you for inviting me onto your blog.
I'm so excited to be able to tell you a little bit about my new release from Evernight Publishing, The Dom Who Said Please.
As I'm sure you all know the lovely author Doris O'Connor lost her battle with cancer earlier this year. She was like a sister to me. My husband and I are honorary grandparents to her children, and we spoke every day. Even though we lived at opposite ends of the country we got together regularly.
She always said she loved my Regencies more than anything else so I started writing this for her, when she went into hospital. Sadly she didn't get to read the end, but I'd told her the plot and she approved.
I hope it works for you as well.
Blurb…
Widow Eleanor Charter knows one thing. She does not want to marry again.
Especially not to someone forceful and dominant.
So why is Theo Moncur, the Earl of Glensmoor interested in her?
As far as she is concerned any man who considers himself dominant, whether he is or not, will play no part in her life. She will be in charge of her life.
Dominant Theo doesn't have marriage on his mind.
Having given his mistress her congé, his growing attraction toward Eleanor makes him wonder if she would fill that place.
He sees something in her, that appeals.
The lady would be a perfect submissive—not that she agrees.
However the more he gets to know her, the more he understands she is the only lady for him.
Now all he has to do is persuade Eleanor to agree.

And a wee tease
Theo dipped his head, took her nub in his mouth, ignored her shriek and the way she clutched his head, and sucked. Before he thought she would have time to assimilate that experience, he nipped each nipple in turn, settled himself between her legs, and then draped her ankles over his shoulders. A position that would give him ease of penetration and her the ability to grip on.
"Arse not too sore?" he asked.
"What?" She sounded puzzled. "Oh no. Not at all."
"Good." He angled the head of his cock at the entrance to her channel and pushed inside her. A scant inch at first, before he withdrew, and she gasped.
"Is that it?"
He rejoiced in the sound of her disappointment.
"Not at all." He repeated the movement over and over, delving deeper with each thrust until he reached the barrier of her maidenhead. "This is where it will hurt. Any pain after this is for pleasure only. I promise." He withdrew, re-entered her slick smoothness, and thrust hard.
The barrier dissolved and Eleanor gasped. "Argh … oh." Her voice shook. "Oh."
Theo took his weight on his elbows, trying not to carry on. Making himself wait until she wriggled.
"More."
Was there ever a time he was willing to obey? Theo moved. Tentatively at first until she matched his pace. Then he rode her. Hard and fast until she stiffened, tightened around him, and then melted, shook, and screamed as her climax overtook her. Eleanor clutched his scalp and convulsed as he let himself go and tried to pull out.
"Oh no. Stay. Stay and show me." Her voice was thready. It trembled but there was enough determination in it for him to realize she meant what she said.
He couldn't have refused, even if the Prince Regent demanded it. Theo let himself go, thrust one last time, and his seed spilled into her, filling her, as he shouted his completion. It left him happy, sated, and drained. When had he ever felt like that before?
Never.
Buy Links:
Evernight Publishing https://www.evernightpublishing.com/the-dom-who-said-please-by-raven-mcallan/
Amazon UK https://amzn.to/2MBtpSE
Amazon.com https://amzn.to/2Xwpzv3
Bookstrand https://www.bookstrand.com/the-dom-who-said-please-mf
Smashwords https://www.smashwords.com/books/view/942693
You can find out all (well almost all) about me at www.ravenmcallan.com or on Facebook, Twitter or my blog www.ravenmcallan.blogspot.co.uk
Happy reading,
Love Raven