I'm very excited to welcome author, Erin Leaf, to my blog. Hello, Erin, I'm so excited about your new novel! What an incredible cover!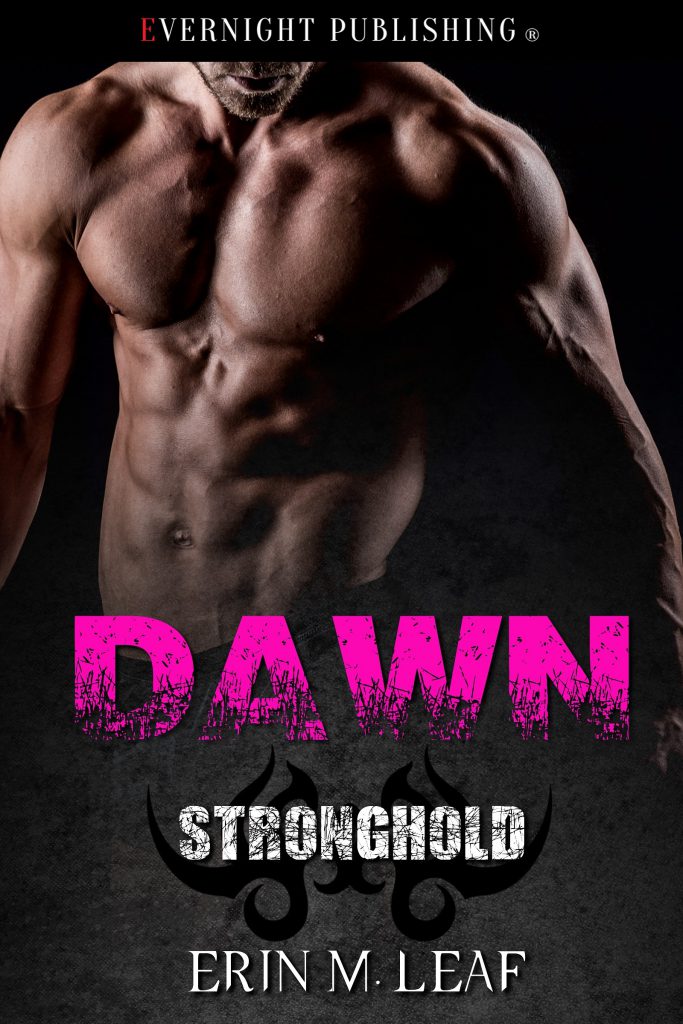 What would you like readers to know about your book?
My latest release is Dawn, the third book of the Stronghold series:
The Sentries are territorial, guarded, and relentless in their duty to defend humanity from a secret, deadly menace. In order to remain vigilant, these semi-immortal men must remain aloof and solitary. No one, not even their true mate, will distract them from their mission to protect Earth from annihilation…
Blurb for Dawn:
Saige Ellis can spot a liar from a hundred yards away, and she knows her history professor is bad news. She hates the way he hides behind his stupid sunglasses and beard. She hates the way his ridiculously perfect body makes her feel. When he asks her to stay after class, she asks him what he's trying to prove.
Isaac Dawn hates having to hide his identity, but it's the only way he can get close to Saige without tipping everyone off about his identity as a Sentry. He knows she's his perfect match, but she's skittish and angry, and for good reason—her abusive father has been stalking her for years. When he asks her to give him a chance, Saige demands the truth, and he blows it.
However, when murderous aliens are real, and a mysterious shadow follows Saige home, is her demand for honesty worth her life? Can she accept Isaac's help without losing herself?
What was it like to write the story? Did you face any difficulties/challenges?
Writing Dawn was like slipping into an old pair of slippers I'd forgotten I loved. I knew my characters and knew it was finally time to tell their story.
What do you love about your story, and why?
I love Saige, the heroine. She's damaged, but she's still strong. She has to work through a lot of trauma in order to let the hero love her.
What have you learned from the main characters in your story?
That love can sometimes happen when you least expect it!
Do you write in other genres and if so, what are they? What genres would you like to try that you haven't already?
I write in all genres across romance: suspense, gay romance, ménage, sci-fi, contemporary, BDSM, humor, etc. I love playing around with tropes. Some of my favorite stories feature friends-to-lovers.
Where do you find your inspiration?
Inspiration is never the problem! Finding the time to write down all of my story ideas is the problem.
If you had to choose your three favorite books by other authors, what would they be and why?
I don't have favorites! I read so much that it would be impossible to name a favorite writer.
Do you have any interests outside of writing, and if so, what are they?
I have a lot of other interests. I think living life to the fullest gives my stories a sense of place and character that they wouldn't otherwise have. Some of my favorite things to do are: hiking, photography, cooking, reading, birding, dancing, and more.
What is your next literary project?
For my next book, I'm going to write something fun. It will probably be a gay romance, and I'm toying around with the idea of a very angry man meeting his match.
Excerpt from Dawn:
"Jesus, I hate these stupid glasses you wear," she said unexpectedly, reaching up and pulling them off. She tossed the useless lenses onto her bed next to her cell phone. "You make me crazy." She punctuated her words with a finger poking his chest. "Why are you being so nice to me?" She ended up with her palm pressed against him. "I'm not a good person."
"You're not a bad person, Saige." Isaac said, almost holding his breath. This close up she couldn't fail to see the silver shards in his green irises, but would she put the clues together? Right now, she had no idea who he really was. A voice at the back of his head told him that she'd figure it out soon. Saige wasn't a stupid girl.
No, she isn't a stupid woman, he corrected himself. The female looking up at him had too much life experience and determination to be anything other than a fully grown adult. "Saige," he said, voice going low. "What are you doing?" His cock hardened as her warmth seeped through his clothes, and he shifted slightly so she wouldn't feel it. God help him, he wanted her with a desperation bordering on insanity. Her emotions skittered over his senses, and he almost stopped breathing when he sensed her arousal suddenly spike.
"Shut up, Isaac." She slid her arms around his neck and pulled his head down. "I'm going to regret this," she muttered, and then she put her lips against his.
She smelled like mint. Isaac shuddered, and then he pulled her tight against his body, seizing control of the kiss. He coaxed her lips open, dipping inside when she gasped.
"Holy moly," Saige said, voice breathy.
"You have no idea what you do to me," Isaac said, hands splayed across her shoulder blades. "You're playing with fire." She felt so tiny against him, but her energy put the lie to her physical appearance. Her small frame held enough spirit for someone three times her size. He kissed her again, cock throbbing against her hip.
"God, you drive me nuts," she said when he came up for air. She pushed his jacket off his shoulders. "Look at you. You have muscles on top of your muscles. And you hide them and pretend like you're some nerdy academic."
Isaac shrugged the jacket to the floor, wanting to feel her soft curves closer to his skin. "What are you talking about? I like this jacket. It's comfortable, not nerdy."
"It totally is nerdy," she retorted, and then she kissed him again, clearly determined to steal every last shred of control that he had left.
Isaac slid his hands into her hair and nibbled her lower lip. "Fuck." He couldn't get enough of her. Energy flickered through his body like lightning on a hot summer day. "Are you sure about this? You were just flipping out over your father." He hated having to remind her about the phone call, but he didn't want her to want him for the wrong reasons.
"Yeah, I'm sure. And I know this is so stupid," Saige said, panting as she leaned into him, wiggling her breasts against his chest. "You're my professor. This is not a good idea."
Isaac groaned and picked her up. She squeaked, but then she wrapped her legs around his hips, canting her body just right to rub against his erection. "Fuck, Saige. We have to stop."
"Ha. Too late. I've made up my mind." Saige had her hands in his hair. "Oh, I hate your beard, too, by the way."
That surprised a laugh out of him. "I don't normally wear it this scraggly." He staggered to the door, then pressed her against it. Her softness felt like heaven against his torso.
"Of course you don't. Another pointless disguise," she said, eyes bright with desire.
"Shit. Be sure, Saige. I'm losing the ability to care whether this is stupid." Isaac slid his hands under her ass, squeezing until she trembled. She's on some kind of emotional rebound, and this probably won't help her, his mind reasoned, but his body had other ideas. His hips jammed up into her, grinding against her core.
"I'm sure we should stop, but I'm not going to." She licked her lips, eyes fastened on his mouth. "You should shave that thing."
"Fuck." Isaac kissed her again, effectively shutting her up. I'll trim it tonight, he vowed, like an idiot. She clung to him as he rolled his hips. Her arousal pushed his higher, and before he could figure out what was happening, he was on the edge of orgasm. "Jesus," he said, voice shaking. "I'm so fucking close. You make me crazy, Saige." With a supreme effort of will, he lurched away from the door and managed to stagger across the room. He dropped her on her mattress, going to his knees as he did so. As he'd suspected, her skin and eyes looked almost incandescent against the green of her bedding. "Beautiful," he breathed, kneeling between her legs.
"Off," she said, fighting with the snap on his jeans.
He put his hands over hers. "Saige." He licked suddenly dry lips. He had a feeling that if they did this, nothing would be the same. Her emotions were all over the place: arousal, need, fear, frustration. It made him want to protect her even more. Is this how Greyson felt when he met Eva? he wondered.
"What?" She sounded cranky.
He smiled, amused by her belligerence. "I'm going to ask you one more time: are you sure you want to do this? There's no going back if we do. This isn't a hookup."
"No going back where? It's not like we're getting married, Isaac," she retorted impatiently. Her fingers yanked on his pants.
Shit. She has no idea. He exhaled as his empathy picked up on her uncertainty, despite her words. "This won't be a one-time thing for me, Saige. I'm not a hookup kind of guy. And you're the one who was freaking out because I'm your history professor. Be sure." He leaned down and kissed her softly. God, he wanted to devour her. To make her scream. "I want you, but if we do this, I don't want you to regret what you discover about me."
Buy links:
 Evernight — Amazon — BookStrand — Smashwords — Kobo — Barnes & Noble — iBooks

Social Media Links:
Website: http://erinmleaf.com
Facebook: https://www.facebook.com/EdgyAuthorErin/
Twitter: @erinmleaf
Instagram: https://www.instagram.com/erin.m.leaf/
Goodreads: http://www.goodreads.com/author/show/4355929.Erin_M_Leaf
Evernight: http://www.evernightpublishing.com/erin-m-leaf/