Hello, Raven, your new novel about shifters sound exciting and what a cool cover!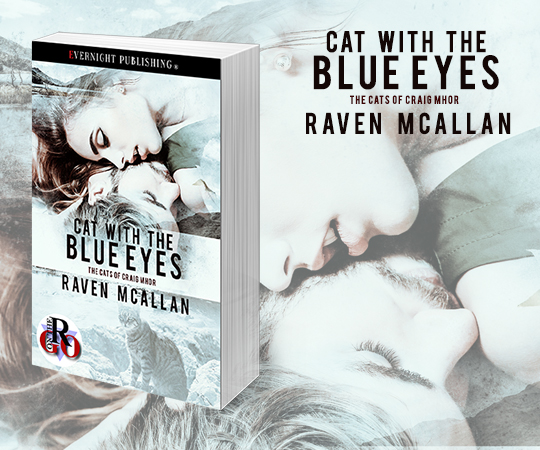 What would you like readers to know about your book?
Cat with the Blue Eyes is the first book in a new series called The Cats of Craig Mhor.
Catlin can't shift, even though her parents could, and she's so unsure about how it will affect Dylan.
He of course is confident it doesn't matter at all.
Does it?
Well, you'll need to read the story to find out.
It's just a short story, but one I hope people will find as satisfying to read as I did to write.
What was it like to write the story? Did you face any difficulties/challenges?
It's set in The Trossachs, in Scotland an area I know and love very well. If we were to be very exact about Scottish Wild Cat's territory it's probably a bit far south for them, but as my cats are shifters, there is no reason they can't live there. It's perfect for them. Mountains, lochs and wooded glens.
The difficulty is I suppose to create a realistic scenario, where shifters can live and work, and still make it a place that if you visited you'd be able to say, 'aha I bet this is where Cat lives.'
I much prefer to set my stories in places I know and love. The only thing I might do is move a house to a new part of the area. After all I'm not sure my neighbors won't want people knocking on their door and asking to see the room Dylan shifts in, or the school Cat teaches at.
What have you learned from the main characters in your story?
It's so much fun to discover who and what they are. I'm very much character driven in this book, and as they revealed themselves to me, I learned how they think, how they react and, most importantly, how I need to do as they say, not make them do as I say. (That never works. I learned that right back at the beginning of my career.)
Do you write in other genres and if so, what are they? 
I write romance in various guises, for quite sweet to quite hot, and I guess from sensual to dark. (Dark romance as Kera Faire)
I also write YA as J. Lilley. The reissued Shalean Moon series, about Leopard shifter in yes, you guessed it The Trossachs will be reissued in the late summer.
What genres would you like to try that you haven't already?
Maybe a crime story one day, but you know? I'm really happy doing what I do.
What or who influences your writing?
My mood and my muse I guess. I just write.
Where do you find your inspiration?
Everywhere and anywhere. I got one idea for a story, as I washed up, and another when I was on holiday in Devon and decided the house we rented was perfect for one of my Regency heroines, as well as a contemporary. The village there and indeed the village I live in Scotland are often used, and I used a holiday villa in Majorca for the setting of another book.
Do you have any interests outside of writing, and if so, what are they?
Does wine, chocolate and travel count? I also like tapestry, and reading of course.
What is your next literary project?
A Regency—the next book in my Daring Ladies series. That's a short series about unconventional ladies who don't follow the rules of the times. Such great fun to write. This one is about a young girl who stands in for a dancer at short notice and attracts the attention of a Duke.
Blurb for Cat with Blue Eyes:
It's not easy being among wild cat shifters, when you're simply human. Especially, when you're trying to keep your supposed mate at arm's length.
Catlin Creamer isn't buying into this destiny nonsense. What does that even mean?
Dylan MacSween might be her every fantasy on legs, but she will not be subjugated by any man, let alone an Alpha like him.
Give him a pack to rule any time. Wooing a female like Cat is a complete step into the unknown. However, this Alpha knows what he wants, and he wants his mate.
Persuading her might take some time, but when his leadership is challenged, Cat proves herself more than worthy as his life partner.
Take one red-haired blue-eyed Cat. 
That's Catlin—she can't shift.
Add Dylan—who can.
Stir in melodrama, malice, and mischief and watch the fur fly.
Literally.
Excerpt from Cat with the Blue Eyes:
The cat next to her smiled—if that's what you called the baring of canines—shook and morphed into a hot as hades male. One she'd sworn off ages ago.
He was bad enough as a cat. As a human, a naked human, he was ten times worse.
Dylan MacSween stretched and her mouth went dry.
God, he was magnificent. Long tawny tresses with those gold and dark streaks in them, just like his fur when he'd shifted. A torso sprinkled with short strands of gold and black, which arrowed downward to where dark, wiry, hair made a nest for his, she had to admit, rather magnificent cock. To say she drooled was an understatement.
Her mouth went dry as she thought of what he could do with that appendage…if she agreed to mate with him.
Unfortunately for her, he was her designated mate and she was having none of it. No way would she be told to mate, or subjugate herself to anyone. Even if it did mean she stayed single forever.
"You'd hate it." Dylan shook his head and let his hair spin around and settle on his shoulders. "Being single for ever."
"Dammit, keep out of my thoughts. It's rude to listen in," she said indignantly. "Mine all mine."
"You forget as my life partner to be, I can read you without consciously trying. Hear you automatically," Dylan said as he finger combed his hair and plaited it loosely. "Sod it, this needs cutting.  Have you got an elastic handy? Nowhere to hide one like this." He regarded his naked body unselfconsciously.
Catlin rummaged in her pocket and brought out a pink scrunchy. "Only this." She waited to see what he'd say as she dangled it from one finger and whirled it around in a circle.
"Thanks, that's fine." Dylan took it from her mid-swing, and secured the end of his plait. "Right, any clues where my jeans are?"
"Where you left them maybe?" Catlin said sweetly. Something in his tone annoyed her. "I'm not your servant. I have no idea where you dump stuff, because I have no need to."
Dylan gave her a black look. His eyes glowed yellow and dangerous before he blinked and sheathed his inner cat.  She shivered. Why, oh why did she insist on challenging him?
Because he's too big for his paws that's why. But was he? Or was he merely fulfilling his role in the Dowt—their group of Scottish Wild Cats that lived and worked as humans part of the time and shifted into their wild forms at others.
"Never said you were my servant, sweet Cat. I don't want a servant. I want a partner."
Buy links:
http://www.evernightpublishing.com/cat-with-the-blue-eyes-by-raven-mcallan
http://www.bookstrand.com/cat-with-the-blue-eyes-mf
amazon uk http://amzn.to/2rRzOyh
amazon .com http://amzn.to/2sVNpV1
My stalking links
Well what can I say?
I'm growing old disgracefully and loving it.
Oh and I live on the edge of a Scottish forest, and rattle around in a house much too big for us.
Our kids have grown up and flown the nest, but roll back up when they want to take a deep breath and smell the daisies so to speak.
I write in my study, which overlooks the garden and the lane. I'm often seen procrastinating, by checking out the wild life, looking—only looking—at the ironing basket and assuring tourists that indeed, I'm not the bed and breakfast. That would mean cooking fried eggs without breaking the yolks, and disturbing the dust bunnies as they procreate under the beds. Not to be thought of.
Being able to do what I love, and knowing people get pleasure from my writing is fantastic. Long may it last.
http:/ /www.ravenmcallan.blogspot.com
https://www.facebook.com/ravenandkera (my page)
https://www.facebook.com/ravenmcallanandkerafaire (author page)
https://twitter.com/RavenMcAllan
http://amzn.to/2r3i55e     (Amazon. com page)
http://amzn.to/2r32baI      (Amazon UK)