Welcome, Sarah! You have a new novel out, Viktor, the first book in a new series. Starting a new series is always exciting. I can't wait to hear about it!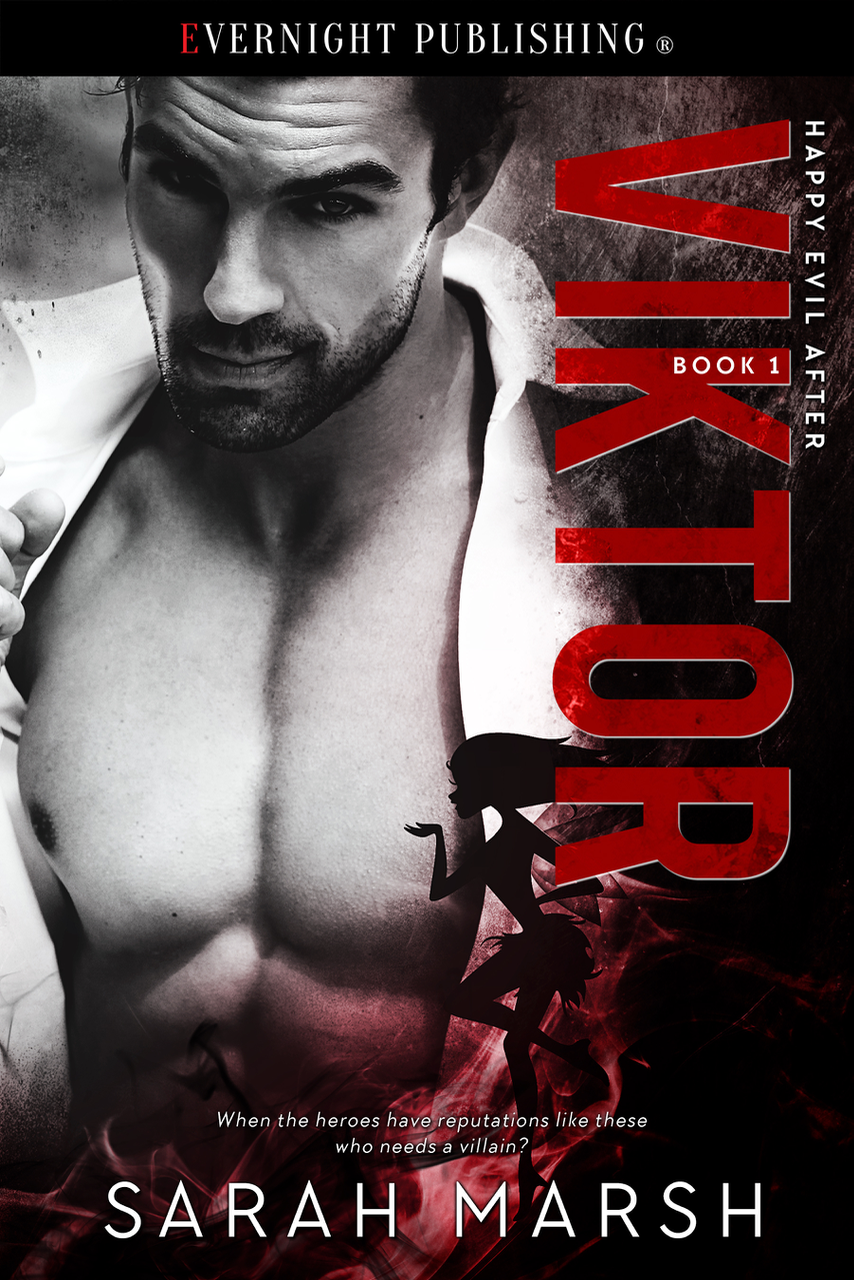 What would you like readers to know about your book?
Viktor is book one in a brand new series called Happy Evil After. It's a paranormal romance series with a twist. This one is a little different than how I usually write my series books, this series will still feature a different couple for each book, but Dori remains the common denominator throughout.
What was it like to write the story? Did you face any difficulties/challenges?
This first book has been in the works for over a year, I wasn't quite sure how to blend the three POV's at the beginning…and I was hesitant about letting Dori 'loose' with the full force of her personality, lol but in the end I figured I might as well just go for it!
What do you love about your story, and why?
I love a romance that makes me laugh, and this series is by far the funniest that I've written. Pandora is a little crazy…and a whole bunch of sassy, combined with the other couples it hopefully makes for a laugh out loud read.
What have you learned from the main characters in your story?
If there's one thing Pandora taught me, it's that you should never be afraid to be yourself.
Where do you find your inspiration?
Inspiration comes in many different forms, I'm a very creative person by nature, almost compulsively. I also paint and am a former pastry chef so all sorts of things can send me into a creative flurry, but one thing that I find does it time and time again is music. The perfect song can change everything.
Who are your author idols and if you met them what would you say to them?
If I had to choose one, it would be Anne Rice. Her Vampire Chronicles were one of the first paranormal series I ever read as a teen, and she really fostered a fascination for the unknown which I hope never goes away.
If you had to choose your three favorite books by other authors, what would they be and why?
I absolutely loved American Gods by Neil Gaiman. I've always been interested in ancient cultures and religions, so the whole idea that they could be wandering around amongst us was pretty awesome.
The next one I'd have to pick a series instead of a book, and it would be the Sleeping Beauty series by Anne Rice. Lol, now for those who have read this series it is quite…intense, but I'm not certain I can say I've ever read anything else that was able to pull me into the characters shoes quite like this series does.
For my next pick, it would be another series, because there's no way I can choose one book from it. The League Series by Sherrilyn Kenyon, because no one does world building like she does…and I'm a huge sci fi geek at heart. 😉
What is your next literary project?
I'm currently working on book 2 for a sci fi romance with Evernight, as well as an anthology project that is another paranormal romance. After that, lol I have a list going for WIP's that is up to about 10. So much to write, so little time!
Blurb for your book:
Viktor, Happy Evil After Book 1
Pandora is a Fairy Godmother who's never fit in with her own people. Only she has the power…and the attitude, to step in and help those who others have decided aren't worthy of a happy ending. How hard could it be to manipulate some of the most feared beings in their world?
Viktor has spent his entire un-dead life being the bogey man to the paranormal community and that's the way he wants to keep it…with everyone else far away from him. When the opportunity arises to take his revenge on his nemesis, he can't resist—even if it means risking his reputation and rescuing the damsel in distress.
Halle never expected to find herself in need of a savior, especially one with a reputation like Viktor's. But she's used to listening to her instincts and her cat trusts the strange woman who pops up and claims to have some solutions.
If a girl can't trust her own Fairy Godmother, then what is this world coming to?
Excerpt from Viktor:
"I mean you no harm, lady. You can go. I'm only here for what's in the car," he said slowly walking towards her. She was a cute little thing, all soft curves with golden skin and hair.
"Ummm, yeah, about that … I'm what's in the car, Mr. Krescech. You have to take me with you out of here," she said almost nervously, those big green eyes pleading with him.
Clearly, she was also insane. What was with the women he was running into this week? Viktor had had more than his fair share of groupies throwing themselves at him in the bars, wanting to take a walk on the wild side for a few hours, but this wholesome little beauty certainly didn't look like the type, so he had no idea exactly what she was asking him for.
"I don't think so," he said, moving past her towards the open back door to search the car.
"Seriously, there's nothing else in the car. They were taking me from my family and my pard to be married to Conrad. I have to go with you to get away from him," she continued, putting her tiny little hands on her very curvy hips in a way that distracted him far more than it should have.
Interesting, so this little number was a leopard shifter? Viktor hadn't really had any interaction with the pard in this country, but by reputation, they were a good lot. Why on Earth would she agree to marry Conrad?
"I don't rescue damsels in distress. I eat them," he said with a flash of fang. "So run along, little kitten."
The tiny spitfire threw her hands dramatically up in the air and sighed loudly.
"You just saved me from a life of baby-making slavery. Aren't you supposed to whisk me away to your super-secret villain lair and ravish me? Sheesh, where's your follow-through?"
Viktor just stood there and stared at her for a moment. He didn't know whether to laugh at her ridiculous statement or take her up on her offer and bend her over right here on the trunk of Conrad's car. He was extremely turned on by the fact that she didn't seem the least bit afraid of him. He'd always tried to pretend that his reputation in the paranormal community pleased him, that it helped him by keeping the rabble away. But deep down it bothered him that everyone always thought the worst of him. His honor was just yet another thing that Melisandre and Conrad had stolen from him when they took his mortality.
"Don't you know who I am, woman?" he finally said as she just stood there looking at him expectantly.
"Yes, I know who you are. Who else is capable of keeping me out of Conrad's douchy hands?" she said sounding a little impatient.
"Don't you have a family you can go to?" he asked, still wondering why he was even standing here talking to her.
Well, that wasn't entirely true. Once she'd said the word "slavery" he knew he couldn't leave her to Conrad's tender mercies. Viktor knew more about slavery than he ever wanted to, and no being should ever be held against their will. That and he had seen firsthand what Conrad enjoyed doing to women. It still sickened him to think back to the horrors he'd had to witness as Melisandre's pet.
"If I go back to my family they'd just have to hand me right back over to him again. My pard owes him a blood debt, and I am the payment. I need this to look like Conrad's men lost me in the confrontation with you. This needs to be his fault, as otherwise, it will start a war between my family and his coven," she said, stepping ever closer.
She stood so close now that Viktor could smell the strawberry and coconut scent of her shampoo. Good Gods, she smells good enough to eat.
"Why would you think that I should care whether or not this starts a war for your people? I will not be fighting in it," he answered, trying to sound like he didn't care one way or another.
"Because I think that you hate Conrad just as much, if not more than I do, and there's nothing he wants more than to possess me," she answered quietly, her huge green eyes staring right into his grey ones.
She was right of course. There was no one on this Earth that he hated as much as he hated Conrad. That's what he told himself anyway when he ultimately decided he would take the girl with him—whether it was the whole truth about his motivations or not.
"First, tell me how your pard was thoughtless enough to enter into a blood debt with a killer like Conrad?"
"It's not like we had any choice. My father was jumped one night by a bunch of rogues, and Conrad just happened to be there to offer his assistance … for a price."
The venom in her voice clearly stated that she suspected they'd been set up. The rogues were most likely paid to attack by Conrad himself. It was a trick the coward had used over and over again.
"Fine," he said with a sigh. "You can come with me, but just until we find somewhere to stash you that Conrad cannot reach you."
"Thank you!" she said with a squeal just before she reached up and hugged him before he could stop her. "I'm Halle, by the way."
Clearly, his reputation was never going to recover from this if anyone saw him being hugged in the alley, but with her luscious frame leaning against his, smelling so sweet, he had a difficult time finding a reason to care.
Purchase Links:
Amazon: https://www.amzn.com/B0731FTJ8H
Evernight: http://www.evernightpublishing.com/viktor-by-sarah-marsh/
Bookstrand: http://www.bookstrand.com/viktor-mf
Kobo: https://www.kobo.com/ca/en/ebook/viktor-6
B&N:  https://www.barnesandnoble.com/w/viktor-sarah-marsh/1126625136
Social Media Links:
Blog: http://sarahmarshfiction.com/
Facebook page: https://www.facebook.com/sarahmarshfiction/
Twitter: https://twitter.com/SM_fiction
Instagram: https://www.instagram.com/sarah_marsh_fiction/
Facebook Street Team link: https://www.facebook.com/groups/955387561187276/
Newsletter sign up: http://eepurl.com/b50yvX
Bookstrand: http://www.bookstrand.com/sarah-marsh
Amazon: http://www.amazon.com/author/sarahmarshfiction
Goodreads: https://www.goodreads.com/author/show/14226436.Sarah_Marsh
Evernight Publishing: http://www.evernightpublishing.com/sarah-marsh/