Welcome, Kristine! I'm so excited to host another M/M Romance author! Lover on Top looks HOT, HOT, HOT!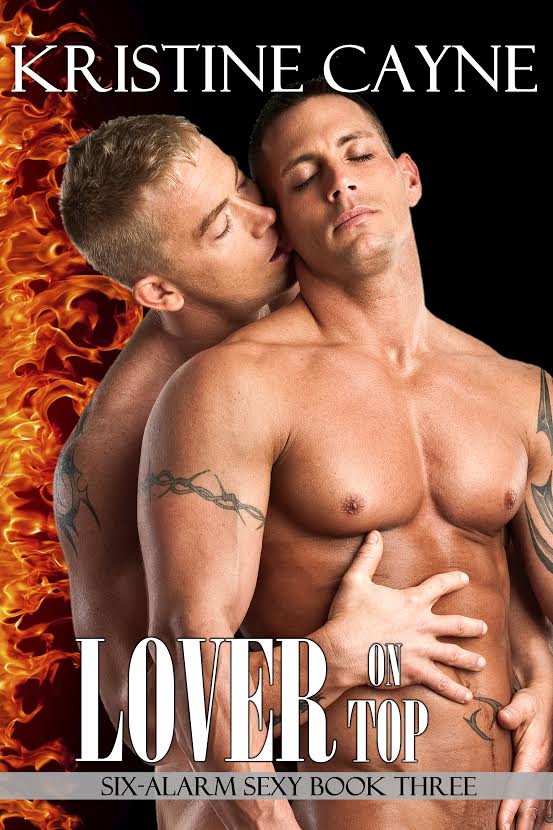 What would you like readers to know about your book?
The main theme in all my books is acceptance. The characters, just like all of us, have to first accept themselves for who and what they are. Once they've done that, then it's possible for them to find love. At the same time, I hope, through my books, to bring to my readers elements of the world that they may not be as familiar with or as comfortable with, whether that be sexual orientation, gender, religion, nationality, or race.
In Lover on Top, Hollywood is faced with the revelation that he may not be as straight as he always thought he was. And as the story unfolds, we find out why this is so.
What was it like to write the story? Did you face any difficulties/challenges?
Lover on Top was my first m/m romance, so there were definitely some challenges that I had not faced in my other books. Also, while this is not a May/December story, there is a significant age gap between the two heroes. That was also a first for me. Lastly, Chad is a paramedic. While I'd written several other stories about firefighters, this was my first paramedic story. I had a great time learning about that profession, interviewing a paramedic with the Seattle Fire Department, and delving into the specifics of Harborview Medical Center and its Burn Unit.
I loved writing this story and digging deeper into Chad's and Hollywood's psyches, their struggles, and their pasts. Seeing the love develop between them was the stuff of dreams. Literally. ☺
What do you love about your story, and why?
I really loved Chad and Hollywood's story. I laughed and shed tears along with these two extraordinary men as their story unfolded and they both came to terms with Hollywood's bisexuality, their budding relationship, and what it would mean to them and to their families and friends. It isn't a smooth road for either of them, but it's one well-worth travelling.
What have you learned from the main characters in your story?
Chad and Hollywood taught me a lot about bi-erasure, about learning to deal with a new reality, about loving the family you chose when the one you were born into doesn't. These struggles are experienced by many, both inside and outside of the LGBTQ community. Knowing that this commonality exists, can hopefully lead to greater understanding.
Do you write in other genres and if so, what are they? What genres would you like to try that you haven't already?
Lover on Top is actually a part (albeit standalone) of an m/f erotic romance series. Each book features a sibling in the Caldwell family. From the first line of this series, I knew that Chad was gay as did my readers. What we didn't know was who would finally catch him. Writing this story as part of the series has allowed many of my readers who'd never read and m/m romance to crossover into this genre and realize that love is love. Truly.
So, to summarize, I write both m/m and m/f romance in the romantic suspense, erotic romance, and contemporary romance sub-genres. I've also written a paranormal romantic suspense novella. It can be viewed as the prequel to a series that I'll write if I ever find the time. So many stories, so few days.
If you had to choose your three favorite books by other authors, what would they be and why?
Oh boy. I love so many books in so many different genres. To simplify this gargantuan task, I'll limit my list to LGBTQ fiction.
Special Forces by Vashtan and Marquesate
Enemy Within: The Executive Office #3 by Tal Bauer
Divide & Conquer (Cut & Run Series Book 4) by Madeleine Urban and Abigail Roux
As you can see, there is a theme here. I LOVE books with some action and suspense in them. They also must have some HOT HOT sex. These books, or rather these series, all have great relationship drama, steamy sex, and incredible action. Even though Lover on Top is technically an erotic romance, it does have its share of relationship drama and tense firefighter/paramedic related action, and of course HOT HOT sex.
What is your next literary project?
I'm currently working on Wrangling the Cowboy, which is the second book in my Men of Boyzville series (a spin-off series from Lover on Top). It features Austin Moore (Chad's best friend), cowboy and software engineer, and Mateo Walker, a home care assistant who is taking care of Austin's estranged father.
After that, I'll be returning to the Six-Alarm Sexy series and writing Stripped Down, Drew and Shay's story.
Blurb:
A straight firefighter discovers an irresistible attraction for his best friend's younger brother—one that could lead to complete disaster.
A perpetual bachelor, firefighter lieutenant Hollywood Wright hops from one woman's bed to another, searching for something he never finds. Has his father's emotional and physical abuse somehow damaged him? Or is something else going on, something that involves the intense and uncomfortable feelings aroused by his best friend's little brother?
Sexy-as-sin paramedic Chad Caldwell has always been out and proud. Sure, some gay-bashers are harassing him, but he's determined to be true to himself. There's just one problem: he's hung up on Hollywood, his older brother's straight best friend. When Hollywood's apartment is damaged by fire, Chad reluctantly takes him in. Will Chad's heart survive such close proximity to a man who's both unattainable and everything Chad wants?
To their mutual surprise, Hollywood finds Chad and his world fascinating—and much hotter than anything he's ever experienced. But with a rabidly homophobic father, is Hollywood doomed to die in the closet? Chad won't accept anything less than a public relationship, no matter how amazing the sex is. Can Hollywood ever accept the man he has always kept buried deep inside?
Excerpt:
Hollywood's focus rose to Chad's eyes, and held. "I know what I want now."
Unable to believe, hell, unable to think, under the force of that seductive green assault, Chad's blood roared southward. He licked his lips. "And what's that?"
The fire in Hollywood's eyes flared, turning Chad's blood into lava as he waited, feet on the edge of a cliff, for Hollywood's response.
"You."
Chad swayed. "Oh boy."
Stepping back, Hollywood chuckled, clearly aware of his effect on Chad. "Get that look off your face. I'm keeping my hands to myself tonight."
"All night?" The words barely out of his mouth, Chad winced at the disappointment in his voice. But, Jesus, he was disappointed. For months now—no, if he were being honest, it had been years—he'd been dreaming of what it would be like to hold Hollywood, to kiss and touch him, to sink his cock between those muscled ass cheeks. Not that he expected to do all that tonight, or anytime soon, but something. Christ, he needed something.
Hollywood gently tapped his cheek and snorted. "At least until after dessert, Loverboy."
Loverboy. Chad felt as though he'd entered some kind of twilight zone or an alternate universe where a determined, confident Hollywood said all the things Chad desperately wanted to hear. "Is that what I am to you?"
Hollywood brushed two fingers along the edge of Chad's hairline and wiped away the beads of sweat popping out as Chad's heart hammered faster and faster. "It's what I'd like you to be." He moved closer and, slipping his hands under Chad's topcoat, pushed it off his shoulders.
Chad shuddered as the coat slid down his arms and dropped onto the carpeted floor with a muted thud. Taking a deep, calming breath, Chad leaned in so his chest was almost touching Hollywood's. "Where is all this self-assurance coming from?"
He hoped like hell this new version of Hollywood stuck around, because this man was hot-as-fuck. Not only did Hollywood not take the expected step back, he took one forward, pressing their chests fully against each other. "I've done a lot of thinking in the past couple of days."
"Oh, yeah? And?"
Hollywood grabbed Chad's ass and ground against him. "And I've missed you."
Feeling Hollywood's hard-on against his own, Chad's head reeled. He'd missed Hollywood too. So fucking much. And here they were, hard cocks rubbing together.
Dreams did come true.
Purchase Links:
Amazon http://amzn.to/26LQ67o
AmazonUK: http://amzn.to/1SVdqbD
AmazonCA: http://amzn.to/1WLbRzN
AmazonAU: http://amzn.to/2fvom5O
AmazonDE: http://amzn.to/2tWQvGv
iTunes/iBooks: http://apple.co/2fa7XQv
Nook: http://bit.ly/2fshq9l
GooglePlay: http://bit.ly/2ex0klK
Kobo: http://bit.ly/2fBL2k4
Social Media Links:
Newsletter: http://www.kristinecayne.com/newsletter/
Facebook: http://www.facebook.com/KristineCayneAuthor/
Twitter: http://twitter.com/KristineCayne
Instagram: https://www.instagram.com/kristinecayne/
Website: http://www.kristinecayne.com/
Blog: http://www.kristinecayne.com/blog/