Welcome, Katerina! Your new, M/M, paranormal novel, Soul Infection, about an outcast magician sounds exciting. I love characters with a troubled past!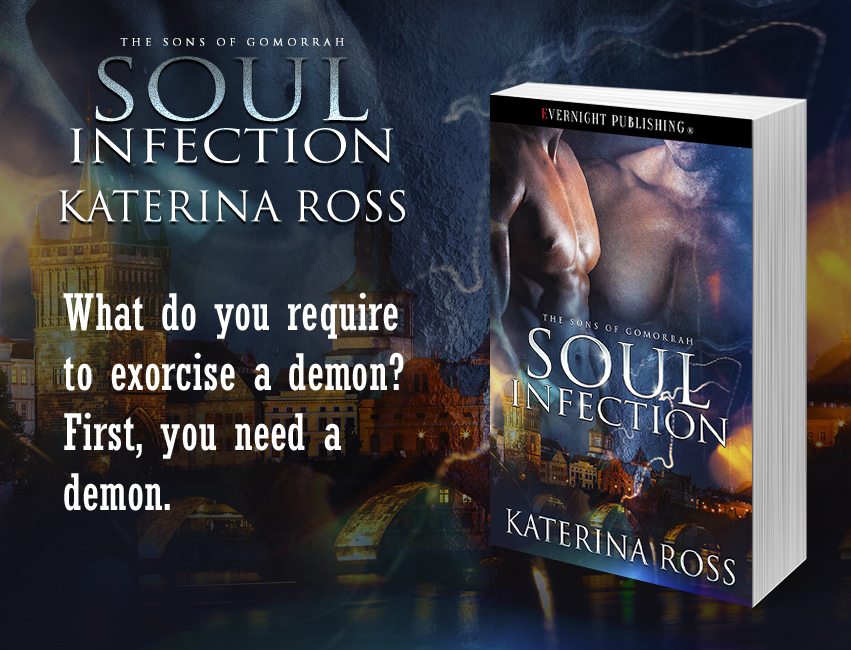 What would you like readers to know about your book?
Soul Infection, book one in The Sons of Gomorrah series, is a paranormal M/M novella set in Prague. There will be magicians, demons, dark secrets, and spicy sex scenes of course 🙂
What was it like to write the story? Did you face any difficulties/challenges?
The most challenging thing for me is writing in English because my native language is Russian. I'm always worried there might be some typos. But there are no M/M romance publishers in my country at all, so I don't have much choice 🙂
What do you love about your story, and why?
I'm very much glad I chose Prague as the setting for my story. It was nice to walk its streets again, virtually this time, with the help of Google Maps. It's a gorgeous city, very much suited for dark romance. It's easy to imagine something magical might happen there.
Do you write in other genres and if so, what are they?
My previous book, "Tenderly Wicked", is a contemporary M/M BDSM novel set in my home city, Moscow. Nothing paranormal, just lots of angst!
What or who influences your writing?
"Soul Infection" was heavily influenced by Arthur Machen and Charles Williams, maybe not by any particular books, more like by the eeriness of their writings on the whole, though it seems that I have a drastically different take on some of their themes. And I also had Gustav Meyrink's "Golem" in mind as it was set in Prague, too. Besides, I'm interested in mythology and fairytales, and I think it shows.
Do you have any interests outside of writing, and if so, what are they?
I enjoy traveling. At the moment, I'm planning a trip to Arkhangelsk. I suppose my trips influence my writing, too. I like sharing my impressions about the beautiful places I've visited.
What is your next literary project?
I just signed the contract for the next part of "The Sons of Gomorrah". Hopefully, it will be out in a month or so. And now I'm working on a sequel. Besides, I've got a M/M/F story on my mind.
Blurb:
Tristan Todorov, formerly one of the best scholars at the legendary and sinister Scholomance school of magic, was cast out and now travels alone through Eastern Europe offering discreet services as an unlicensed magician. In a luxurious hotel in Prague where he's been invited to investigate a suspicious series of suicides, he's about to meet someone who will make him remember the darkest secret of his past. Will a night of lust soothe Tristan—or will it stir up something evil and dangerous, something he's tried so desperately to forget?
Excerpt:
Jarek slid off the bed, the coverlet still loosely draped over his shoulders and trailing behind him like a king's cloak. In the gap between the folds, Tristan could see everything he wanted to.
"Don't move," Jarek told him softly. "Keep your hands to your sides."
And Tristan obeyed.
"Interesting," Jarek mused, trailing a finger along his collarbone.
Tristan sucked in a deep shuddering breath, but stayed still. It felt odd, letting this happen. Jarek slipped his hand lower, casually brushed it across Tristan's perked nipple on the way, and then traced a path down his chest and over the muscles of his abdomen. Tristan's abs went taut at the feather light touch, and Jarek laughed quietly.
"Sensitive." He stated the obvious. He let the coverlet slip from his shoulders—an effortlessly seductive gesture, probably well-practiced. A slow, crooked smile made the expression on Jarek's face all the more lascivious, which was most certainly the intention. "I think I know what you need."
Tristan looked down pointedly and then up, with a hint of sarcasm. "Well, that's kind of apparent."
He still felt nervous, but not as much as when he'd thought of being pitied or rejected.
Jarek quirked an eyebrow at him. "Is it? Hmm. We'll definitely come to that, but why rush things? I'm here to take care of your wishes, even the ones you're not sure you have. Why not try something new, something unusual?" He leaned in, very close, and Tristan felt Jarek's warm breath on his lips when he whispered, "Just let me take control for a while, and you'll see how good I can make you feel."
The next moment, Jarek backed off, to Tristan's disappointment, but maintained eye contact, and Tristan felt unable to look away, as if mesmerized. The tips of Jarek's fingers now rested lightly on his hipbones, almost where Tristan wanted them most but not moving closer.
"Say yes," Jarek coaxed him in a low voice. "Say you give in to me tonight. It's easy, giving in."
"Yes," Tristan breathed out, not sure what he's agreeing to and not caring in the least.
Buy Links:
Evernight Publishing: http://www.evernightpublishing.com/soul-infection-by-katerina-ross/
Amazon: http://a.co/0ttTWNF
Social Media Links:
Facebook: https://www.facebook.com/people/Katerina-Ross/100012647831003
Tumblr: http://tenderlywicked.tumblr.com