I'm so pleased to announce that Lightning's Hidden Menace has been published and is now available through Amazon, Evernight Publishing, and BookStrand.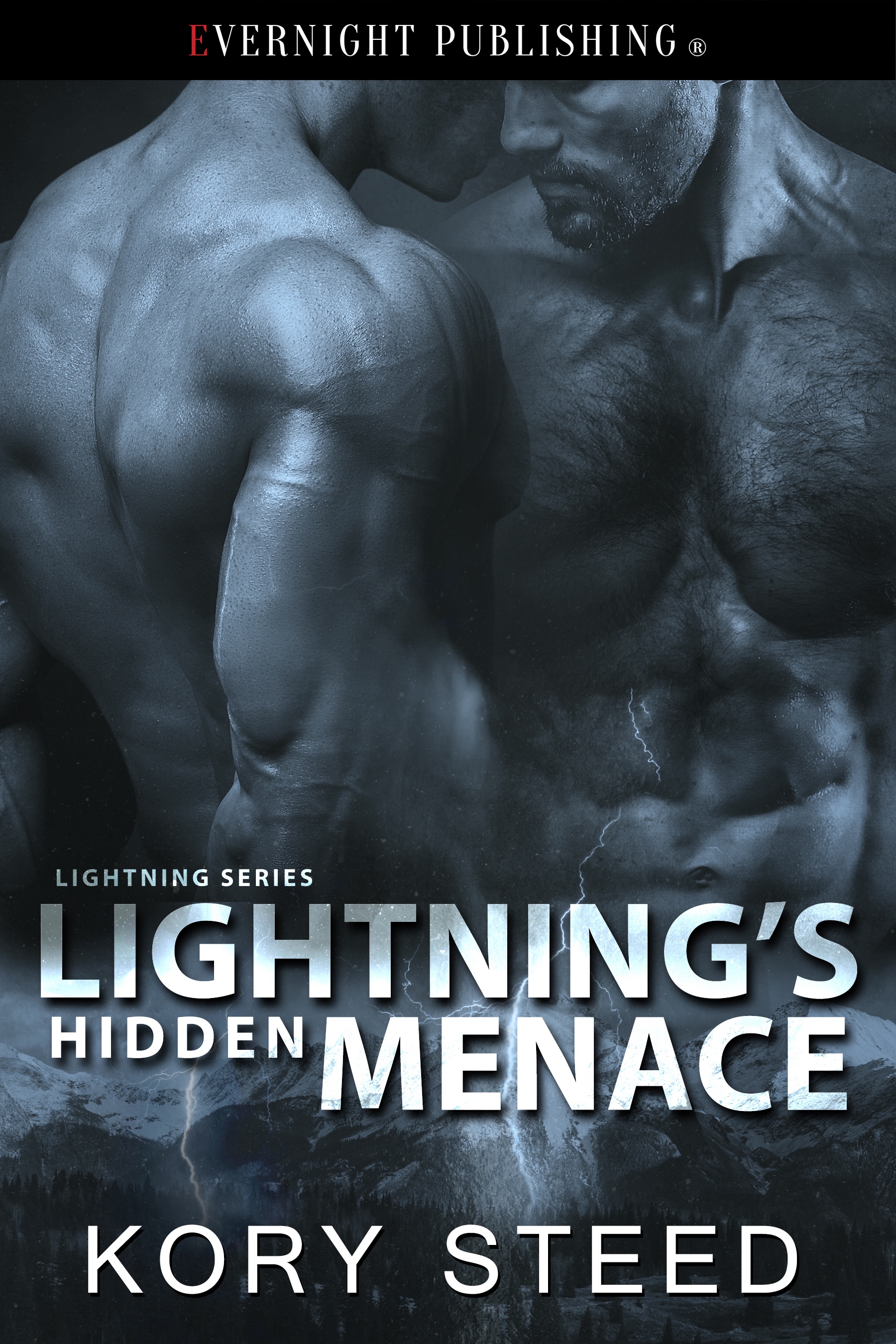 Blurb:
Jason cannot believe that Aaron, the man whose life he saved and who helped him break free from PTSD, has suddenly returned to him. Healed, whole, and ready to renew their growing love, they begin to plan a future together. With their first night of torrid lovemaking, they dream of many more, but fate is against them.
A dark nemesis from Jason's past reappears with lethal intent, driven by a grudge from having been disgraced by a military tribunal. The fallout for Jason and Aaron is far-reaching and heart-wrenching and tears into the fabric of the life they have so carefully begun to weave.
When hatred strikes in a barrage of gunfire, they are left fighting for their lives. Their only focus is to take back what has been ripped away from them; their only hope, that the strength of their love will be enough.
+18 Reader ONLY Excerpt:
"You look beautiful," Aaron said as Jason approached the bed.
"So do you. How did I get so lucky?"
"Luck had nothing to do with it, baby. You saved my life. You were kind to me, and you took care of me, and day by day, I fell more and more in love with you, and now you're stuck with me." Aaron opened his arms, and Jason climbed into them.
"I can live with that."
As they began to kiss, Aaron rolled Jason onto his back. "Now let me take care of you for a change."
"Just go slow, Aaron, and remember, just because I can't go for too long doesn't mean that I don't want to."
"Yes, baby. I'm going to take such good care of you."
"I'm all yours, Aaron."
"Yes, you're mine."
Aaron rolled to his side and began to slowly run the back of his fingertips across the thick, trimmed hair that covered Jason's chest, lingering over each nipple when he crossed them. Then he moved it up and down his belly, barely making contact, raising goosebumps. "I could do this for hours, baby, but I know I'd be pushing it, and I don't want to put too much stress on you."
"It's not that I don't want to, it's just…"
"Hush, my love, I know," he answered as he covered Jason's mouth with his own.
He ran his fingertips through the manicured lawn above Jason's growing shaft and then cupped his balls into his palm, gently squeezing and massaging them.
Jason's lips parted. As he let out a moan, Aaron drove his tongue deep inside Jason's mouth.
"Baby, I could come just like this," Jason moaned again as he pulled his mouth away.
"Is that what you want?"
"No, I want to come with you inside me."
"Then I'll make that happen."
Aaron slid himself down along the length of Jason's body until his face hovered above his shaft. He lowered his head and gently squeezed his balls as if he was testing the ripeness of an orange, just enough to bring the first drop of sweet nectar to the surface. When it appeared at the slit in the head, he flicked the tip of his tongue across it, lifting the drop as it emerged. Immediately, he encircled the reddened helmet with his mouth and began to flick his tongue around the corona and down the frenum. Then he began to suck.
Jason's body spasmed. "Oh! Oh, my! Aaron."
Aaron rose to his knees and pivoted around while moving his right thigh across Jason's chest until he straddled it. He opened his mouth as wide as he could and slid down the shaft, deep throating it until his nose became buried in Jason's balls.
Jason lifted his head and pulled Aaron's sack into his mouth as he nuzzled his nose behind it, inhaling Aaron's musk.
Aaron sucked Jason's shaft hard as he pulled up and lingered over the crown, and then he released it for a moment. "Oh, Jason, your scent. It drives me wild."
Instinctively, Jason spread open his thighs when Aaron began to milk his shaft with his mouth. When Aaron reached down and began to circle his middle finger around Jason's hole, Jason groaned and tightened his abdominal muscles, causing his hips to roll upward. "Ow! Aaron, help me. It's pulling on my ribs."
"Where the chest tube was?"
"Yeah."
"I've got you, baby." Aaron grasped Jason's butt cheeks with his hands, spreading them apart, while he slid his mouth from the head and traced his tongue downward along the underside of Jason's shaft. When he reached his balls, he mouthed them one at a time, rolling them against his tongue. Then he moved down further, licking along the shaft as it ran beneath the base of his pelvis until he reached Jason's clenching hole. In one long motion, he spread his tongue wide and licked along the crack from the base of Jason's cock and across the hole, until he came out the other end. Then he tightened his tongue into a lance and began to drive it against Jason's outer sphincter, jabbing and wiggling it as he went until it relented and opened itself to him.
Jason's body began to tremble and lurch in time with Aaron's advances. Guttural sounds erupted from his throat as Aaron devoured him like a predator feasting over a fresh kill. The louder Jason became, the more Aaron was driven into a feeding frenzy as he sucked and slurped and swallowed until he breached the final barrier.
Aaron pulled away and reached for a bottle of lube. He popped it open and squeezed a huge glop over his fingers, then wiggled his middle finger against the outer sphincter of Jason's hole at the same moment he dove down on his shaft again and began to suck, feverishly. Jason's hole puckered, but then opened as he advanced past the inner sphincter. Making small circles as he probed deeper, he massaged the muscles and coated them with the slick lube until his finger was in to the last knuckle. Then he added his index finger and began sliding them together in and out and around and around.
"God!" Jason shouted. His breathing became ragged as he gasped against the advance of Aaron's ministrations, and when he added a third finger, Jason began to pant.
"You're almost there, my love," Aaron said as he readied the fourth.
"I'm ready, Aaron. Please. I'm ready."
When Aaron had all four fingers inside him and began to caress his prostate, Jason's hips began to buck, wildly. A jet of pre-cum was ejected from the now purple head, and Aaron sucked it down his throat, greedily.
"Easy, baby. I don't want you to hurt yourself."
"I can't help it, Aaron. Not when you do that!"
"I'm sorry, I was too aggressive. I forgot…"
"Don't apologize! Not for that! Not ever!"
"Roll onto your side, baby. I'm going to take you slow. Slow and steady. Just let me do everything. I don't want you to rip open any stitches. How would I explain that to your doctors?"
"Aaron, forget the fucking stitches! They're coming out tomorrow. Now, please," Jason moaned, "make love to me."
Aaron's cock bounced with each heartbeat, aching for release. He slid his body next to Jason's, rolled him back onto his side, and encircled him in an embrace. Then he slowly slid his shaft along the cleft between Jason's butt cheeks, through his thighs, and under his balls until its head found daylight on the other side. Jason reached down and scooped up what remained of Aaron's saliva and mixed it with the pre-cum that oozed from his slit. He grasped the engorged head of Aaron's cock and began to lubricate it.
Buy links:
Amazon US – https://www.amazon.com/gp/product/B075G48LH4/ref=series_dp_rw_ca_2
Amazon UK – https://www.amazon.co.uk/gp/product/B075G48LH4/ref=series_dp_rw_ca_2
Amazon CA – https://www.amazon.ca/Lightnings-Hidden-Menace-Lightning-Book-ebook/dp/B075G48LH4/ref=sr_1_1?s=digital-text&ie=UTF8&qid=1507422200&sr=1-1&keywords=Lightning%27s+Hidden+Menace
Evernight Publishing – http://www.evernightpublishing.com/lightnings-hidden-menace-by-kory-steed/
Barnes & Noble – https://www.barnesandnoble.com/w/lightnings-hidden-menace-kory-steed/1127096745?ean=2940154548813
iTunes – https://itunes.apple.com/us/book/lightnings-hidden-menace/id1282617754?mt=11
Networking links:
Author Website – http://korysteed.com
Twitter – https://twitter.com/KorySteed
Facebook – https://www.facebook.com/KorySteed/
Goodreads – https://www.goodreads.com/author/show/16591892.Kory_Steed