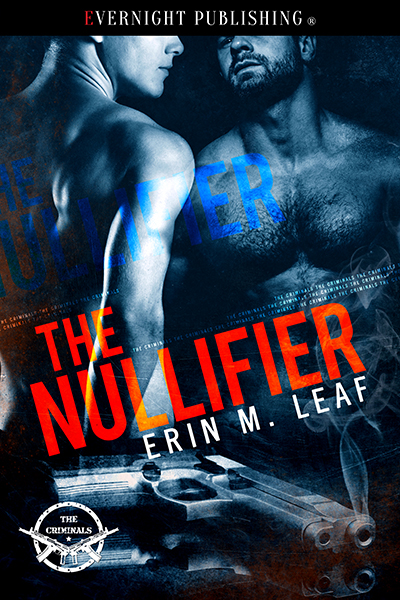 Erotic Romance, Gay Romance, May/Dec, Lawless, Suspense
Word Count: 44,900
Heat Level 4
Published By: Evernight Publishing
ISBN: 9781773394954
ASIN: B077TZDBF4
pages: 127
Buy links: Evernight – Amazon – BookStrand – Smashwords – Kobo 
Contract killer Felix Zamaro isn't looking for love—at his age, all he wants to do is retire. When he interrupts a robbery-in-progress, he stumbles into a mess: Nick Banner is in town to help his sister kick her loser boyfriend to the curb.
Nick never thought he'd meet a hot-as-hell assassin in the middle of a random coffee run, but watching Felix take down a couple of thieves in a crappy gas station has him questioning his rule against playing with straight guys.
When Felix's next mark turns out to be none other than the boyfriend of Nick's sister, all hell breaks loose. When Nick moves into the house next door to Felix, both men think fate is messing with them. However, it's Nick's unexpected career choice that really throws Felix off his game, and for a killer, that could be a fatal mistake.
Author Details:
Erin M. Leaf is a romance novel devotee, the steamier the better, with a specialty in edgy erotic tension. She also writes romance as Marie E. Blossom.
Website: http://erinmleaf.com
Facebook: https://www.facebook.com/EdgyAuthorErin/
Twitter: @erinmleaf
Instagram: https://www.instagram.com/erin.m.leaf/
Goodreads: http://www.goodreads.com/author/show/4355929.Erin_M_Leaf
Evernight: http://www.evernightpublishing.com/erin-m-leaf/

Excerpt:
"Can't sleep?" Nick murmured, rolling over.
Felix grunted. What the fuck was wrong with him? Just the sound of Nick's low, sleepy voice sparked another surge of heat.
"Still trying to convince yourself that you're straight?" Nick asked, sounding more awake.
Felix frowned, head turning towards Nick. "What the hell are you talking about?"
Nick sighed, pushing the covers down to his waist. "I've seen you looking at me."
Felix sat up and swung his legs over the side of the bed. "I'm going out to walk the perimeter."
Before he could stand up, Nick's hand landed on his shoulder. "No, you're not." His voice was low and soft. Unthreatening.
Felix's muscles tightened anyway. Nick's hand was warm and heavy. His training told him that he could grab Nick's wrist and break his elbow, or twist him around and rip out his throat, but the strange tension flaring through his body wouldn't let him move. "You don't want to do this, Nick," he said, gritting his teeth.
"Do what?" Nick pulled him back down to the mattress. "Touch you? Make you feel good?" He pressed Felix's wrists down, hard.
Felix flexed his biceps. In the dark, Nick was a dark shape looming over him. Instead of fear, or anger, Felix's emotions jumped wildly from arousal to confusion. "I could break your neck."
"That knowledge just makes it sweeter," Nick murmured.
"Makes what sweeter?" Felix asked, voice raspy. He couldn't seem to breathe right. Is this a panic attack? he asked himself. He'd never experienced anything like this. His entire life had been a systematic observation of facts and rational decisions. Nothing much bothered him—not killing, not violence, not sex. Boredom was a problem, but he certainly wasn't fucking bored at the moment. I'm screwed, he thought, still not throwing Nick's ass to the floor.
"This," Nick said, leaning down and kissing the side of Felix's jaw. "Jesus, you smell good."
Felix flexed his arms, pushing up against Nick. "Stop. You know I'm straight."
"Make me." Nick moved his lips down Felix's shoulder and pressed his lips to the crook of his elbow.
Felix froze. He couldn't breathe. Couldn't think.
"You're not straight, and you don't want me to stop, Felix," Nick said, and then he bit the soft skin of his arm.
Felix groaned. Just that one sharp touch brought him right to the edge. "Fuck." His hips strained upwards as his balls drew into his body. His cock hurt.
"No, no fucking yet. Tonight, I'm going to blow you." Nick shoved down Felix's sweatpants and took his cock in his hand. "I can't wait to suck you off. I bet you'll try and keep quiet. I bet I can make you come so hard you won't know where you are anymore."
"Jesus Christ." Felix gripped the sheets. He'd never wanted a mouth on his dick so bad before. Nick's voice had him shaking. "What the hell are you doing to me?"
Nick chuckled. "I'm not doing anything yet." He leaned in and blew along Felix's erection. "This isn't just about me, straight boy. This is about you. You've suppressed your sexuality for so long that you don't have a damn clue about what you like and don't like. You've been fucking the wrong gender your whole life."
"Screw you. I've been straight for decades. I've fucked plenty of women," Felix ground out, not wanting to admit how hot Nick's touch made him. You're going to eat your words, a small voice in the back of his head told him.
Nick slid his thumb over the top of Felix's erection and rubbed the pre-cum welling from the tip in a tight circle. "And every one of those women left you empty. Missing something. I bet you haven't even bothered to pick someone up for the past few years. You haven't hooked up with anyone lately, have you?"
Felix shuddered, but didn't reply. Nick was right. He hadn't even attempted to get laid recently. Why bother? The women always wanted more from him than he was willing to give, and the rote mechanics of sex bored him lately. "Just get on with it," he grated out, not in the mood for a psychoanalytical mind-fuck at the moment.
Nick laughed. "Oh no, my friend. My blowjobs are works of art. I am going to go slow, and I am going to drive you out of your fucking mind."