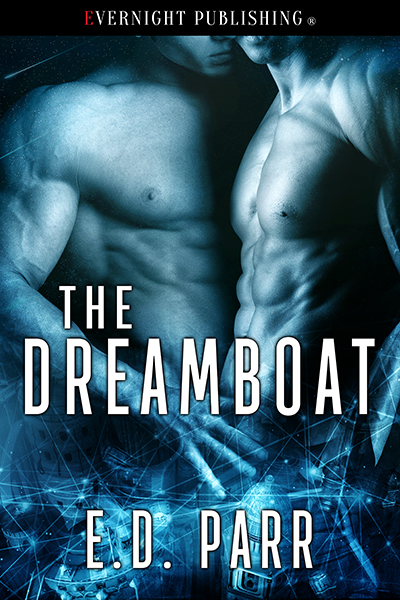 Gorgeous, powerful warlock, Indigo Vaughn, sells his magic spells to people looking to make a dream come true. One night, as he gazes down on the city below from his sky barge The Dreamboat, he wonders why, in centuries, his own wish for a man to love hasn't materialized.
Beautiful, sexy, Darian O'Harr has suffered his fair share of misery. He's a musician and learned long ago to sing for his supper. New to the city, he comes to Indigo seeking a spell that will bring him the love of a handsome man.
As soon as he sets eyes on Indigo, his heart races and his body betrays his pent up needs.
Here is the man of his dreams. What can Darian do as the warlock gathers his magic to cast a spell that will bring him another man?

BUY Links:
On launch special discount price at Evernight Publishing 
http://www.evernightpublishing.com/the-dreamboat-by-e-d-parr/
https://www.amazon.com/dp/B077TB36FS
Global Amazon link http://a-fwd.com/asin-com=B077TB36FS
http://www.bookstrand.com/the-dreamboat-mm
Coming soon to, KOBO and NOOK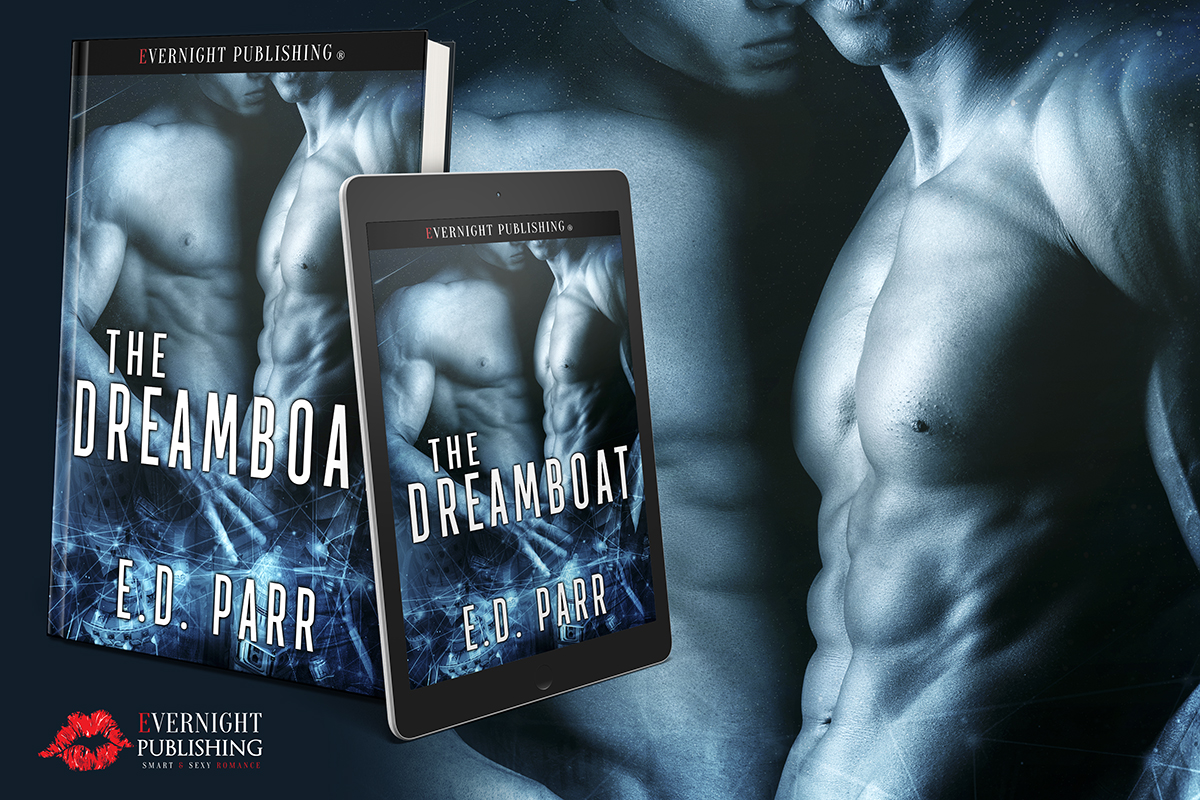 Read an excerpt 18+ 
Indigo didn't sleep well for three nights after meeting Darian. On the fourth night he didn't sleep at all. His sexual needs beat at him, until he couldn't think straight. His desire burned until all he could think about was fucking. He pushed his breakfast around on his plate the next morning. That day he stalked the corridors of The Dreamboat eschewing meetings and focused only on the security arrangements for the queen's celebrations. At sixteen hundred hours he called Milan to his side.
"Will you make an appointment at Temptations for me? Twenty-three hundred hours will be good."
Milan's gentle smile comforted him. "One, Two, or Three, sir?"
Indigo shook his head slowly. His desire threatened to overwhelm him. Nearly crazed with sexual need, Indigo needed to deal with it or be incomplete for weeks to come. "All of them. Thank you."
Moments later, Milan returned. "You're expected at Temptations, twenty-three hundred hours as you requested. Permit me to take you there and wait to bring you home?"
"Yes, of course."
****
Temptations buzzed with chatter and thumped with music in the main downstairs room. People danced, some grinding their bodies against each other's.
A host met Indigo. "It's been a while, sir. I trust you are well. Your requested companions are ready."
Indigo nodded. He silently followed the host to the upstairs room where beautiful men he knew only by a number would slake his desires that night.
The host left him.
Indigo wore only a belted kilt and ankle length hooded cloak over his naked body. He stepped out of his soft suede ankle boots, and waited, his cock already half-erect with anticipation.
Gorgeous men entered the room, their naked bodies muscled, their eyes dark with desire, they came to Indigo silently.
Indigo savored their looks, big cocks already filling out into erections. His admiring gaze raked over the men, their lush dark hair, soft and well-cut, blue eyes, gray eyes, smooth skin free of body hair, and his cock jerked as his stomach tightened. He loved men. These men were the best of Temptations male brothel, and they'd serviced him once before a year ago. He sighed recalling the satisfaction. The night sparkled with promise. He watched with growing sexual hunger.
One carried a tray and placed it on the table away from the huge low bed. On the tray—a carafe of water so cold it misted the glass, sachets of lube, condoms, sex toys, tissues, and a wine glass.
One unclipped Indigo's cloak and after grazing his lips on Indigo's, he brought the cloak to a freestanding rail and hung it.
A low murmur of appreciation fell from Indigo's mouth as he savored the fleeting kiss from One's perfect lips.
Two knelt and traced his fingertips up and down Indigo's legs, reaching his balls and circling feather light touches there that made Indigo's cock fill out in a delicious slow sensation.
Indigo closed his eyes with lust as his stomach tightened and jerked his cock when Two stroked the backs of his thighs.
Three took the belt from Indigo's kilt as One slid his hands around Indigo's face and held him fast kissing him hungrily. The kiss seared desire through Indigo and he slid his palms along the satiny skin of One's muscled chest with a groan.
Copyright E.D.Parr 2017, Evernight Publishing